The toilet paper roll is the unsung hero of the bathroom. It stoically does its job day after day without any sign of recognition. Firmly keeping the toilet paper in place and making sure it is easily accessible when you need it the most. And then once the toilet paper is gone the lowly toilet paper roll is usually thrown away and forgotten.
But some creative artisans have decided to give the toilet paper roll a new life. The creations range from basic kids crafts to works of art that will surprise and delight you.
We had so much fun watching Rednecks blow up appliances that we thought we'd do it again. And we figured that the bigger the appliance, the bigger the explosion.
Who knew there were so many options for getting rid of your faithful old refrigerator? Most people just recycle it, donate it or dump it but these fine folks think that taking it out back and shooting it is a better idea.
Two pounds of Tannerite vs. One Fridge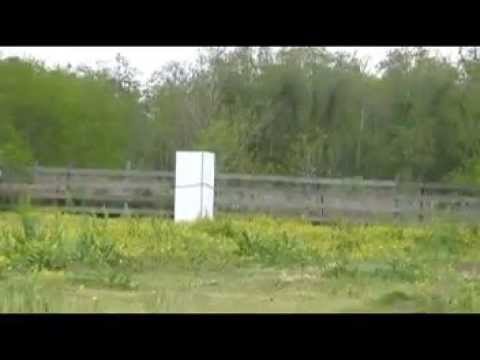 4 pounds of Tannerite + 1 great shot = 450 feet of refrigerator wreckage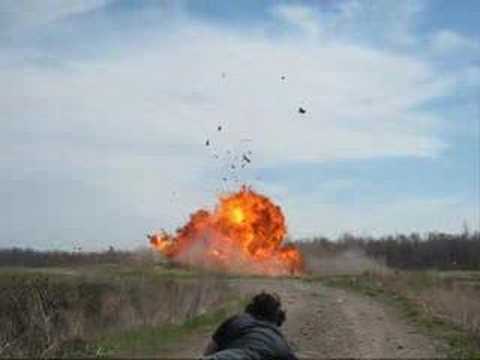 Insert evil laugh here…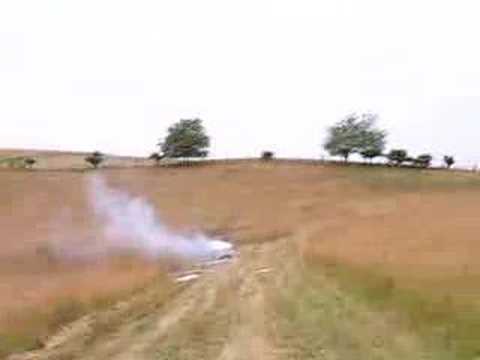 Blowing refrigerators up on the down-low…
(how hard would it be to hunt down a redneck in a fedora?)
Someone should tell them the fridge door opens…
Instant Replay
Easter will be hopping upon us in just a few days and what's Easter without a cute little bunny?
Ruby Re-Usable has created this lovable little WonderBunny out of plastic Wonder bags, bubble wrap and clear packing tape. Wonder Bunny is a festive way to reuse those old bread bags and create something new and adorable. But if you aren't creative enough to make one of your own, then check out Ruby's Etsy store to purchase one of these colorful creatures for yourself.
Via: ToyCyte.com
We've talked about some fun and creative ways to "recycle" your old appliances, redneck-style. A few grenades, an open field and a couple of beers is an entertaining way to dispose of your old fridge.
But there's another unique way to get rid of your old appliances that's equally destructive and equally fun. If you've got a knack for killer robots, you could try your hand at building your own Ziggy and declaring an all-out, carnage-filled war on your home appliances like this guy did at Battle Beach 4.
There are thousands of ways we can be 'green' and help do our part to protect our environment. From recycling old newspapers and pop bottles to donating used clothing and furniture, it seems there is a way to recycle or reuse just about everything.
So why is it many homeowners forget about recycling their old household appliances? When it comes time to dump that outdated or worn-out appliance, resist the urge to toss it in the dump and do your part to properly dispose or recycle it. As you'll see, it can be as easy a phone call!
Bounty and Municipal Programs

If you need to get rid of an old appliance the first thing you should do is call your electric utility and see if they offer a bounty program in your area. These programs can give you a rebate for your old, unwanted appliances. Generally, these appliances do have to meet certain requirements and be in working condition to qualify.
You can also try to arrange an appointment with your municipality to have your appliance picked up or to find out where you can take them to be disposed. Find out more about these programs by calling your municipality or checking out the Environmental Protection Agency's FAQ on disposing appliances.
Donation Programs
Why recycle an appliance when another family can reuse it?
If you're updating your home and have decided to get new appliances, you can donate your old appliances through various donation programs such as the Salvation Army. These organizations are a great way to get rid of any home appliance but they do need to be in working condition before they are accepted. If you're interested in these types of programs, there are several options available here and here.
Disposing of Appliance with Refrigerants
Appliances containing refrigerants need special attention when being disposed. Refrigerators, air conditioners, and dehumidifiers all contain dangerous refrigerants such as Freon, which can deplete the ozone if not properly disposed. If you need to get rid of one of these appliances and they do not qualify for one of the above programs, check out the US Environmental Protection Agency for proper disposal.
Remember, never under any circumstance attempt to remove refrigerants yourself as they can cause you and the planet physical harm.
We all share the responsibility of keeping our communities and the environment safe and with so many options available, there's no reason not to. So next time you're thinking of throwing out an appliance, or anything else for that matter, make sure you stop and think about the safest and friendliest way to do so. If we all work together, we can make a difference.
For more information on recycling and proper household hazardous waste disposal:
Appliance Recycling Centers of America
Association of Home Appliance Manufacturers
American Council for an Energy-Efficient Economy
Earth911
Natural Resources Canada