How many people does it take to create a window accessory that provides energy savings of up to 25%? The answer is three University of Notre Damn students.
Will McLeod, Mike Stacey, and Ryan Tatzel, all students at UND, created the SmarterShade - an aftermarket window accessory that regulates the amount of heat and light that is allowed through the glass. The SmarterShade actually allows the window to be adjusted from clear to dark (and various degrees in between) using a remote, which ultimately increases or decreases the amount of light and heat let through.
It completely eliminates the need for window treatments such as blinds or curtains and is incredibly easy to install. Homeowners simply snap the SmarterShade in place within any window and it's ready to be used. Besides the obvious savings from having such an energy efficient window treatment, it's also easy to clean, keeps you healthy by blocking UV rays and can be applied to any of your existing windows.
The SmarterShade model currently available costs about $200.00 and runs on battery power (for the remote control tint). However, the future of SmarterShades will hopefully run only on solar power. The SmarterShades are a unique and ingenious window treatment that will not only save the homeowner in monthly bills, but also offers a more environmentally friendly solution for heating, cooling, and lighting the home.
For more information on this and other similar products, check out this article and interview of the student inventors as well as their website, SmarterShade.com.
Your budget is stretched, you're feeling stressed, your to-do list is longer than your arm, AND your boss is driving you crazy. You really NEED a vacation.
Funny thing is, vacations can add to your stress.
There's planning, packing, getting to the airport and dealing with security, or endless driving and potential road-rage; and you haven't even arrived at your destination yet. Add that to the fact that this misery is going to cost you… BIG! The most expensive parts of your vacation are travel expenses and accommodations.
Since you've already paid money to live in your house or apartment then the smartest thing you can do is to stay put, avoid the stress and take a Stay-cation!
Of course you are likely to ask yourself, "if I just stay put then how is it really a vacation?" Well, why don't you think about what a real vacation is. A vacation is about having fun, eating too much, drinking too much, and not dealing with your actual everyday life.
How can you do this while staying at home? Easy! We've broken it down into 3 budget categories. You can choose the one you like or mix and match. It's all up to you since it is your stay-cation.
Don't forget the ground rules.

1.    No chores.
2.    Do not check your work email.
3.    Do not open your mail.
4.    Screen all of your calls so that you only answer the important ones, like party invitations.
These 4 things will take a bit of willpower but are vital to the success of your stay-cation. Once you get past the first day they will get easier to do.
Mid-Range cost:
Now some of these things may seem a little decadent but you are on vacation and are planning on spending a little bit of money so think of all of the money you saved on hotels and flights to exotic locales and indulge a little in other areas.
Hire a maid for the week. There can be great joy in coming back to a clean home after a long day of rabble-rousing. No toys to pick up, no dishes to wash, no beds to make… It sounds like bliss to me.
Eat out every meal. If you were staying at a hotel you would need to eat out at every meal so treat yourself to the same self-indulgence and try out some of the local restaurants that you've never been to before.
Get a babysitter and go out like adults do. At least if you are staying at home you have a baby sitter you can trust close by so you don't have to worry about a stranger looking after your little ones.
Take a cab. If you are going out to have a few drinks with your partner, you don't want to worry about a designated driver. Enjoy yourself without worrying about how you are going to get home.
Explore some of your local attractions. Check with your local Chamber of Commerce or use the Internet to find some of the local treasures you may not have discovered yet. Try typing "Things to do" plus the city or town in your browser and you should find lots of great ideas to get you started.
Low-Cost:
We haven't cut the expenses down to zero on this one but sometimes it is worth spending a few bucks to have a good time.
Hire a maid on the first day of your vacation. She/he may not be able to look after the day-to-day untidiness but it will be nice to start your vacation with a clean bathroom and kitchen.
Eat out one meal a day and make it lunch. Most places have great lunch specials that cost about half of what you would pay for the same meal in the evening. And eating out makes less housework and is fun for a change.
Get a babysitter for at least one night or afternoon. It is a good idea to have adult fun once in awhile. Check out the local café that hosts poetry readings or open-mic night.
Take a bus. You can still go out and enjoy a few drinks with your partner but go early so you can catch happy-hour and then take the bus home.
Check out the local attractions. Most museums and art galleries are pretty low cost and full of things to pique your interest.
No-Cost:
It's important to get out and enjoy life even if your entertainment budget is zero.
Pack a picnic. If you can't afford to go out to a restaurant you can still go out. Get your picnic lunch organized and head to the nearest park or beach. Both locations are either free or low-cost and you can make the day of it.
Trade baby-sitting services with one of your neighbors. Offer your friends free baby-sitting in the future in exchange for them baby-sitting your little ones now.
Take a romantic walk in the park/ beach, go hiking on a trail, stargazing, ice skating, sledding, make a snowman… you get the idea. Just go somewhere and leave the kids at home.
Explore the no-cost local attractions and monuments. Most museums and art galleries have some days marked for free admission and your library is chalk full of free books, magazines and movies for you to borrow.  Libraries also often have story time, special activities, crafts for kids, and even concerts by local musicians.
Finally, if you want to do something completely different (and the weather is nice), take your vacation budget and blow it on a backyard stay-cation: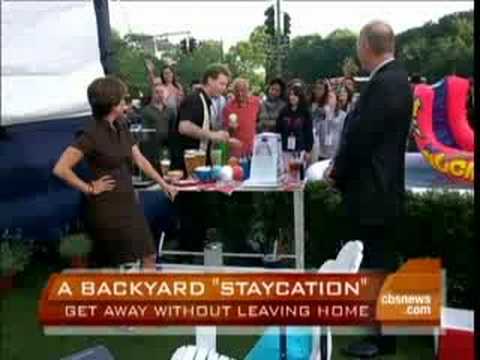 Even if you are stuck at home, it doesn't mean you can't plan a fun and exciting stay-cation. All you need to do is set your budget, think creatively, do some homework and plan your Best. Stay-cation. Ever. Oh, and don't forget to take some great stay-cation photos!
More ideas to make your stay-cation interesting and enjoyable:
Fly a kite
Play croquet
Go fishing, swimming, biking
Bird watching
Geo-caching
Bake cookies together
Do crafts – paint, sculpt, knit, wood-work
Spend a day taking photos
Window Shop
Camp out in your backyard
Go to an open-air concert, parade, farmer's market
Visit a cemetery – cemeteries are full of history
Take a farm tour, winery tour, chocolate factory tour
Organize a scavenger hunt
Have a potluck
Invite friends over for coffee
Have a Family Game Night or Marathon
Volunteer – it sets a good example for your kids and helping others makes you feel good.
Living within your means doesn't mean that you have to do without; it just means that you need to look at your money in a different way.
I think of every $1.00 saved as approximately $1.33 earned. Now you are probably wondering 'what is this crazy lady talking about'.
Well, think of it this way. You would have to earn $1.33 at your job to have $1.00 in your pocket (it could be more or less than this depending on your tax bracket but you get the idea). This is because the taxman has to take his share right off the top of your paycheck before you get to see a cent.
If you pay approximately 33% to the taxman then you have to earn more than $1 to actually get $1 to spend. I know this isn't fair but it is life.
The point is that if you save one of the dollars that is already in your pocket, it is really more than earning $1 in the big scheme of things.
So instead of getting a second job to try to earn some extra cash why not just make some minor adjustments in your spending habits. Here are 5 easy ideas to save you money and help you keep some of your hard-earned dollars in your pocket.
1.   Brown bag it to work. I know you've heard this one so many times that you are tired of hearing it but it really does save you money. A cheap lunch out will cost you at least $7 - $10 these days and that is for a sandwich or hamburger and a drink. Is $7 for your lunch really good value for your money? Making your own sandwich and drinking water will save you at least $6 (unless you are making really expensive sandwiches).
2.   Purchase generic brands at the grocery store. Most of them are made by the big brands anyways and this can help you save major money on your food bill.
3.   Use coupons. Clipping coupons may not be your thing but if you find a coupon for $1 off an item that you regularly use, then the 5 minutes it took you to cut out the coupon is definitely worth your time. But keep in mind, using coupons on products you never usually buy is not a great deal if you will be spending money on something you could have done without.
4.   Turn down your thermostat. A sweater and some slippers will keep you warm and cozy during the day and an extra blanket on your bed will keep you snug at night.
5.   Cut out the daily junk food habit. Those daily sodas and bags of chips can add up quickly. Not only are they damaging your pocketbook, they aren't doing much for your waistline either.
Being environmentally conscientious helps preserve our precious earth and can also save you money! Look at the appliances being used in your home on a regular basis. Are any of these appliances 10, 15, or even 20 years old? If so, you can bet your bottom dollar you're spending more on monthly utility costs than you have to.
In recent studies, the Environmental Protection Agency (EPA) estimates that the average family household is spending nearly $2,000 per year in utility costs and kitchen appliances are at fault for almost half of these expenses.
The EPA, along with the US Dept of Energy (DOE), has created a classification system called Energy Star. This system is designed to pinpoint domestic appliances that are more energy efficient, boost air quality and decrease utility bills. Although appliances equipped with the Energy Star label (EnergyGuide) can potentially cost up to 40% more than standard models, they can save up to half of the daily energy you use. So not only are you saving money in the long run, you're helping to protect our environment for a better tomorrow and future generations.
Understanding Your EnergyGuide Label:
To help you better compare Energy Star appliances and make sure you're getting the most efficient product, all Energy Star appliances are required to have an EnergyGuide label. This label shows you the model number and features allowing you to compare things like size and capacity, but most importantly, it estimates on average how much energy this model will use per year. It gives you a range to show you the least and most amount of energy used per year, and it also gives you an estimate of how much this model will cost per year.
Energy Star Models Standard Features:
Energy Star Clothes Washer:
· Uses 50% less water.
·    Extracts more water from clothing in the spin cycle to help reduce drying time.
·    Reduces wear and tear on clothing.
·    Uses up to 40% less electricity.
·    Up to $110 in savings each year.
Energy Star Refrigerators:
·    Consumes at least 40% less than standard models.
·    Up to $150 in savings every year.
Energy Star Dehumidifier:
·    Uses between 10 - 20% less power.
·    Around $30 in savings each year.
Energy Star Dishwasher:
·    Uses half the water of regular models.
·    Use over 40% less energy.
·    Save $90 over the dishwasher's lifetime.
Household Air Conditioner:
·    Uses 10% less energy than standard models.
·    Save around $250 over the air conditioner's lifetime.
Save On Your Monthly Bill With These Energy Saving Tips:
If an Energy Star appliance is not in your immediate future you can still save money right now with these energy savings tips for each appliance in your home.
Clothes Washer:
·    Wash full loads and avoid using warm/hot water unless necessary.
Refrigerator:
·    Avoid overheating by allowing a space of at least one inch between the wall and the back of the refrigerator. This will help air to circulate and control the temperature.
·    Don't place your appliance by areas that produce heat. Radiators, vents, heat ducts, stoves, and even sunlight from your windows can cause the unit to use more power than needed.
·    Check the temperature of both your fridge and freezer regularly. Keep the fridge between 35 and 38 degrees and your freezer at 0 degrees.
Dehumidifier:
·    Close all windows and doors when running your dehumidifier.
·    Change your filters on a regular basis. A build up of dirt can hinder its performance causing the unit to use more energy.
·    Keep it away from walls, furniture or dusty areas.
Dishwasher:
·    Wash full loads of dishes.
·    Only use standard options. Pre-rinse, heat-dry and rinse-hold are extra features that use more energy.
Household Air Conditioner:
·    Close all windows and doors.
·    Set your timer for temperature control.
·    Select the correct unit for the size of your room.
Help us win the battle against our diminishing resources and put an end to excessive energy use. Invest in Energy Star approved appliances and you'll not only save on monthly utility costs, but also reduce pollution and emissions into our homes and environment. After all, preserving our earth is everyone's responsibility, what do you have to lose?