It's time to rethink the way we use our consumable products. We can't give up our toothpaste and soap but what if we could stretch them out a bit more and make them last longer?
The key to finding the optimal amount of any product is to experiment. Get out of your old habits and start being aware of what you are doing. Once you achieve usage awareness it will be easier to determine the perfect amount of product. Start by scaling down what you are currently using. Do it slowly, over several days, until the product seems to lose its effectiveness. Once you hit that point, revert back to the amount used in your previous try and you have the sweet spot.
It may not seem worth the effort at first but using less really doesn't take much effort at all, just a little consideration. Here are 8 products to get you started and once you've changed your thought process about them, see what else you can use less of in your home.
Toothpaste
Did you know that most people use much more toothpaste than necessary on their toothbrush? A pea size amount is really all you need and does just as good of a job as twice the amount.
Soap
If you use a soap pump, one pump often gives you more soap than you actually need to wash your hands. A tightly wound rubber band around the base of the pump will prevent the pump from being depressed all of the way but should still give you plenty of soap to get your hands nice and clean.
Shampoo
Shampoos come in squeeze bottles which mean that it is super simple to squeeze out more than you need. This is especially true if you have teenagers or children in your home.
One way to start making sure everyone uses only as much as they need is to start pouring the shampoo into pump-type dispensers. One pump is lots for short hair and you'll cut down on shampoo waste. Plus, if you are going to start pouring your shampoo into pump dispensers then you can start buying your shampoo in bulk and save even more money there.
Razor Blades
Drying your razor blades after each use will extend their life, sometimes making them last months instead of days. It is the water droplets that do most of the damage to the blades, causing them to rust and oxidize. Simply blotting your blades on a towel after each use will help to get rid of the water that shortens the life of your blade.
Shaving Cream
A great way for men to save on shaving cream is to grow a beard and give up shaving. If this isn't an option, then how about trying something completely different? A little bit of inexpensive hair conditioner can be used in place of shaving cream and doesn't dry out your skin like soap does.
Dishwasher Detergent
If you check your dishwashers' manual you will see that the amount of detergent you need depends on your water's hardness level. Often, the softer your water, the less detergent you need. To check your water's hardness just give your local water company a call and they can give you that information. Then check your manual and see how much detergent you really need.
Laundry Detergent
Most scoops that come with your laundry detergent are based on the maximum amount of detergent needed for the worst laundry circumstances. However, most times our laundry does not have heavy stains and sometimes we run smaller loads than others. These things affect the amount of detergent you need and if you do a little experimentation you may determine that you are using too much.
Dryer Sheets
One way to double the amount of dryer sheets you have is to rip them in half before throwing them in the dryer. You won't notice any difference in your clothes and you now have 2 dryer sheets for the price of 1. Feel free to experiment with this, try ripping them in thirds and check the effectiveness, or don't bother to rip them but reuse them over and over again until they no longer do their job, or just get rid of them altogether.
These simple tips will sometimes double and triple the amount of usage you can get out of a product. So don't be afraid to experiment with other consumable products, I'm sure it will make a difference in your grocery bill.
One tried and true step to saving money is to pay off your credit card bills in full every month. No balance on your credit card means no monthly interest charge accumulating every month.
But what if you were to take that one step further and use credit cards that pay you.
There are tons of credit cards on the market that offer incentives. Some offer cash back or frequent flier miles while others have their own point system in place. Find the one that will give you the most bang for your buck and use it for all of your regular expenses.
Gas and groceries add up quickly so if you pay for them with your credit card, your credit card will be paying you in no time. The key is to continue to pay off your monthly balance in full. Any savings you gain by using this new credit card would be quickly overshadowed by credit card interest if you don't pay your balance.
As long as you are vigilant about paying the amount off in full every month, then there is also the added bonus of keeping your hard earned cash in your account until the day the credit card bill is due instead of paying on the day you actually purchase the groceries.
Your savings will add up in no time once you find the credit card that is right for you.
Are your lamps looking outdated and worn? Have they gone from a once stark white to a dark, butter cream? Give those tired looking lamps a mini makeover and a new lease on life with just a few craft supplies and a little creativity.
For a funky look, use beads and string to create a fun fringe around your lampshade.
Or use scrapbooking appliqués to create your own unique pattern.
You could also opt to purchase your own fabric like this animal print to cover the shade entirely and then paint the base for a total 360 makeover.
Get creative with ribbon, jewels, buttons, stamps, stencils, paper, seashells, bows, fur, paint and more.
You can also get the kids involved in creating special lamps for their bedrooms!
Your lamps will never be the same again! This is a great idea for old lamps picked up at yard sales or an inexpensive way to update your lamps after redecorating a room.
Gone are the days of dropping $100s of dollars on expensive artwork to decorate our walls. Now we can adorn them with artwork we made with our very own hands and just a few basic tools.
Better Homes and Garden has several tutorials on DIY artwork so easy anyone can be a Picasso - even if you don't think you've got a creative bone in your body.
Check out this stylish artwork made with medium-density fiberboard and paint or this simple, modern piece made using art canvas and foam cups.
It can be as simple as peel stickers, one solid, accent color, your own photography and so much more. Almost anything can become an eye-catching art piece, so show off your personality and style with some homemade art!
So here we are, smack dab in the middle of winter, trying to fight off the February doldrums. And we have no $$$ to get away from it all. We don't even have any cash to buy a big, bad-ass snowmobile and make it slightly more bearable.
We have 2 options:
We can hole up inside for the next 2 months.
We can grab what Mother Nature serves up, make it into a snowball and throw it right back at her.
Since option 2 seems like way more fun, we've put together a list of "cool" activities that require little to no dough and will get you excited about being out in the snow.
Make a Snowman
This is the obvious first choice. Don't let winter pass you by without making at least one snowman. And if the creative spirit hits you, make a snow family, snow dog, snow cat, snow bird, you get the idea… You can have a whole snow village right in your own yard.
Build a Snow Fort
Make it as small or big as you like. Simple caves are perfect for little ones or get serious and make your own igloo.
Make Snow Paint
You may discover that you have a few budding Picassos once you put a little food coloring and water in a spray bottle.
Make Snow Angels
Perfect for freshly fallen snow.
Catch Snowflakes on Your Tongue
Organize a Snowball Fight
Make teams, take cover and let loose. But remember to fight fair, no ice or slush balls.
Explore Your Local Trails
Many parks keep their trails open during the winter months so put on your mukluks and take a hike. Don't forget your camera, you never know what wonder of nature may be lurking nearby.
Trails are also perfect for snowshoes and cross-country skis; this equipment is usually available for rent if you don't have your own.
Identify Animal Tracks
Throw some popcorn in your yard before bedtime and then check out the tracks in the snow the next morning. See if you can identify them. Or make your own tracks in the snow and see if you can fool your friends.
Make a Simple Bird-Feeder
Find a pine cone, cover it with peanut butter and then roll it in bird seed. Hang it to a tree branch and watch as the birds flock to your yard. Keep a journal to track your feathered friends.
Go Sledding
Your need for speed can be answered with a simple crazy carpet (they don't call them crazy for nothing). Just find the nearest hill and hang on as you careen wildly down at break-neck speed. Just remember, it's no fun if someone breaks their leg, so play safe.
Go Skating
Check your local arena for public skating times or go to an outdoor rink. Most arenas have rentals available if you don't have your own skates. No arena or outdoor rink? Build your own.
Go Snowboarding or Downhill Skiing
Check the ski hill's website for deals. Often, there are special times that have discounted rates.
Shovel Your Neighbor's Walk
Teach your kids to lend a hand. It's good for your heart in more ways than one.
Make Some Cold Crafts:
Snowflakes on Glass – Get a piece of glass and some aerosol hairspray. Freeze the glass and the hairspray. Spray the frozen glass with the frozen hairspray and then let some snowflakes land on the glass. Bring the glass inside to thaw for 15 minutes and voila, your snowflakes will now be saved on the glass.
Ice Candle Holders – Place an empty container in a bucket of water. Put the bucket outside to freeze. Once frozen, remove the ice from the bucket and the container from the ice. Place a candle inside the ice and presto!
For More Fun and Exciting Ideas:
http://familyfun.go.com/games/indoor-outdoor-games/feature/famf19snowgames/famf19snowgames.html
http://familyfun.go.com/games/indoor-outdoor-games/feature/famf199701_fficeparty/famf199701_icegames.html
An available water supply is something that most of us take for granted. Yet, water ebbs and flows with the seasons. As the earth warms under the summer sun, certain areas experience droughts and restricted water usage. This proves that water is not really limitless but a finite commodity.
Exhausting our fresh water supply is no longer a far off worry but a real possibility for our children's future. However, there are simple things that we can do now to conserve our water and help keep our planet greener:
Turn off the water when you aren't using it. Running water while you brush your teeth or shave is literally letting your water go down the drain.
Keep cold drinking water in the fridge. Running the tap to let your water get cold is a terrible use of fresh drinking water.
Take shorter showers. An average 5 minute shower uses between 15 - 25 gallons . A 2 ½ minute shower would cut that number in half. If you prefer baths, then fill the bathtub half as full as you normally would.
Wash vegetables in a small bowl of water instead of under running water. This goes the same for your car. A bucket and a sponge will save gallons of water compared to a running hose.
Only run the washing machine and dishwasher when you have full loads.
Replace your current showerhead with a low-flow one to reduce your water consumption by 50 to 70%. Using less hot water also reduces the amount of energy needed to heat up the water.
Buy a low-flow toilet. Regular toilets use about 3.5 gallons of water per flush while low-flow models use a maximum of 1.6 gallons of water.
Fix leaking faucets and toilets right away. Even small drips can add up to thousands of gallons of water wasted.
Don't flush garbage down the toilet. Proper disposal is better for your toilet and saves water.
Collect rainwater. Use this water for your garden and lawn. Or don't water your lawn at all; grass goes "dormant" in extended dry periods and will return to normal after a few good rains.
Your budget is stretched, you're feeling stressed, your to-do list is longer than your arm, AND your boss is driving you crazy. You really NEED a vacation.
Funny thing is, vacations can add to your stress.
There's planning, packing, getting to the airport and dealing with security, or endless driving and potential road-rage; and you haven't even arrived at your destination yet. Add that to the fact that this misery is going to cost you… BIG! The most expensive parts of your vacation are travel expenses and accommodations.
Since you've already paid money to live in your house or apartment then the smartest thing you can do is to stay put, avoid the stress and take a Stay-cation!
Of course you are likely to ask yourself, "if I just stay put then how is it really a vacation?" Well, why don't you think about what a real vacation is. A vacation is about having fun, eating too much, drinking too much, and not dealing with your actual everyday life.
How can you do this while staying at home? Easy! We've broken it down into 3 budget categories. You can choose the one you like or mix and match. It's all up to you since it is your stay-cation.
Don't forget the ground rules.

1.    No chores.
2.    Do not check your work email.
3.    Do not open your mail.
4.    Screen all of your calls so that you only answer the important ones, like party invitations.
These 4 things will take a bit of willpower but are vital to the success of your stay-cation. Once you get past the first day they will get easier to do.
Mid-Range cost:
Now some of these things may seem a little decadent but you are on vacation and are planning on spending a little bit of money so think of all of the money you saved on hotels and flights to exotic locales and indulge a little in other areas.
Hire a maid for the week. There can be great joy in coming back to a clean home after a long day of rabble-rousing. No toys to pick up, no dishes to wash, no beds to make… It sounds like bliss to me.
Eat out every meal. If you were staying at a hotel you would need to eat out at every meal so treat yourself to the same self-indulgence and try out some of the local restaurants that you've never been to before.
Get a babysitter and go out like adults do. At least if you are staying at home you have a baby sitter you can trust close by so you don't have to worry about a stranger looking after your little ones.
Take a cab. If you are going out to have a few drinks with your partner, you don't want to worry about a designated driver. Enjoy yourself without worrying about how you are going to get home.
Explore some of your local attractions. Check with your local Chamber of Commerce or use the Internet to find some of the local treasures you may not have discovered yet. Try typing "Things to do" plus the city or town in your browser and you should find lots of great ideas to get you started.
Low-Cost:
We haven't cut the expenses down to zero on this one but sometimes it is worth spending a few bucks to have a good time.
Hire a maid on the first day of your vacation. She/he may not be able to look after the day-to-day untidiness but it will be nice to start your vacation with a clean bathroom and kitchen.
Eat out one meal a day and make it lunch. Most places have great lunch specials that cost about half of what you would pay for the same meal in the evening. And eating out makes less housework and is fun for a change.
Get a babysitter for at least one night or afternoon. It is a good idea to have adult fun once in awhile. Check out the local café that hosts poetry readings or open-mic night.
Take a bus. You can still go out and enjoy a few drinks with your partner but go early so you can catch happy-hour and then take the bus home.
Check out the local attractions. Most museums and art galleries are pretty low cost and full of things to pique your interest.
No-Cost:
It's important to get out and enjoy life even if your entertainment budget is zero.
Pack a picnic. If you can't afford to go out to a restaurant you can still go out. Get your picnic lunch organized and head to the nearest park or beach. Both locations are either free or low-cost and you can make the day of it.
Trade baby-sitting services with one of your neighbors. Offer your friends free baby-sitting in the future in exchange for them baby-sitting your little ones now.
Take a romantic walk in the park/ beach, go hiking on a trail, stargazing, ice skating, sledding, make a snowman… you get the idea. Just go somewhere and leave the kids at home.
Explore the no-cost local attractions and monuments. Most museums and art galleries have some days marked for free admission and your library is chalk full of free books, magazines and movies for you to borrow.  Libraries also often have story time, special activities, crafts for kids, and even concerts by local musicians.
Finally, if you want to do something completely different (and the weather is nice), take your vacation budget and blow it on a backyard stay-cation: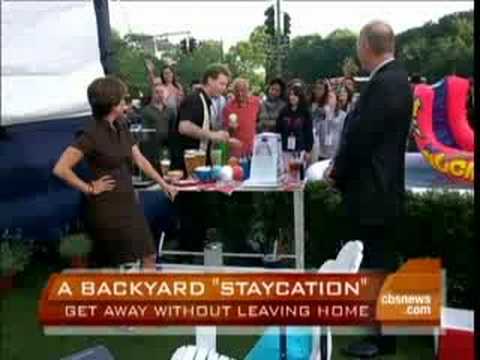 Even if you are stuck at home, it doesn't mean you can't plan a fun and exciting stay-cation. All you need to do is set your budget, think creatively, do some homework and plan your Best. Stay-cation. Ever. Oh, and don't forget to take some great stay-cation photos!
More ideas to make your stay-cation interesting and enjoyable:
Fly a kite
Play croquet
Go fishing, swimming, biking
Bird watching
Geo-caching
Bake cookies together
Do crafts – paint, sculpt, knit, wood-work
Spend a day taking photos
Window Shop
Camp out in your backyard
Go to an open-air concert, parade, farmer's market
Visit a cemetery – cemeteries are full of history
Take a farm tour, winery tour, chocolate factory tour
Organize a scavenger hunt
Have a potluck
Invite friends over for coffee
Have a Family Game Night or Marathon
Volunteer – it sets a good example for your kids and helping others makes you feel good.
Living within your means doesn't mean that you have to do without; it just means that you need to look at your money in a different way.
I think of every $1.00 saved as approximately $1.33 earned. Now you are probably wondering 'what is this crazy lady talking about'.
Well, think of it this way. You would have to earn $1.33 at your job to have $1.00 in your pocket (it could be more or less than this depending on your tax bracket but you get the idea). This is because the taxman has to take his share right off the top of your paycheck before you get to see a cent.
If you pay approximately 33% to the taxman then you have to earn more than $1 to actually get $1 to spend. I know this isn't fair but it is life.
The point is that if you save one of the dollars that is already in your pocket, it is really more than earning $1 in the big scheme of things.
So instead of getting a second job to try to earn some extra cash why not just make some minor adjustments in your spending habits. Here are 5 easy ideas to save you money and help you keep some of your hard-earned dollars in your pocket.
1.   Brown bag it to work. I know you've heard this one so many times that you are tired of hearing it but it really does save you money. A cheap lunch out will cost you at least $7 - $10 these days and that is for a sandwich or hamburger and a drink. Is $7 for your lunch really good value for your money? Making your own sandwich and drinking water will save you at least $6 (unless you are making really expensive sandwiches).
2.   Purchase generic brands at the grocery store. Most of them are made by the big brands anyways and this can help you save major money on your food bill.
3.   Use coupons. Clipping coupons may not be your thing but if you find a coupon for $1 off an item that you regularly use, then the 5 minutes it took you to cut out the coupon is definitely worth your time. But keep in mind, using coupons on products you never usually buy is not a great deal if you will be spending money on something you could have done without.
4.   Turn down your thermostat. A sweater and some slippers will keep you warm and cozy during the day and an extra blanket on your bed will keep you snug at night.
5.   Cut out the daily junk food habit. Those daily sodas and bags of chips can add up quickly. Not only are they damaging your pocketbook, they aren't doing much for your waistline either.