I gotta have my gadgets. I've got gadgets for talking to friends, gadgets for listening to music, gadgets to make sure I can find my way home at night, gadgets for just about all of my needs. The thing is these gadgets require power, which means I've got to charge them up.
In the past I have always looked for ways to hide the tangle of wires that snake across my desk leading to an intertwined disaster against the wall. Most options available are just undesirable, glorified cord winders. And since affordable, energy-efficient, wireless chargers are still a thing of the future then maybe I should start thinking about my wires in a different way.
What if I were to celebrate my wires, embrace them, welcome them into my life? Would they sprout leaves and bloom because of the affection I have poured onto them? Maybe they would look like this design concept created by MicroWorks. The vine camouflage is a thing of beauty.
And what if MicroWorks were to use Gizmodo's idea to expand their idea into something more elaborate - like a plant charging station where the branches could double as charging cables. Perhaps our gadgets could be transformed into an aesthetically pleasing tropical paradise of energy rejuvenation. You've got to admit, that sounds pretty spectacular.
How many people does it take to create a window accessory that provides energy savings of up to 25%? The answer is three University of Notre Damn students.
Will McLeod, Mike Stacey, and Ryan Tatzel, all students at UND, created the SmarterShade - an aftermarket window accessory that regulates the amount of heat and light that is allowed through the glass. The SmarterShade actually allows the window to be adjusted from clear to dark (and various degrees in between) using a remote, which ultimately increases or decreases the amount of light and heat let through.
It completely eliminates the need for window treatments such as blinds or curtains and is incredibly easy to install. Homeowners simply snap the SmarterShade in place within any window and it's ready to be used. Besides the obvious savings from having such an energy efficient window treatment, it's also easy to clean, keeps you healthy by blocking UV rays and can be applied to any of your existing windows.
The SmarterShade model currently available costs about $200.00 and runs on battery power (for the remote control tint). However, the future of SmarterShades will hopefully run only on solar power. The SmarterShades are a unique and ingenious window treatment that will not only save the homeowner in monthly bills, but also offers a more environmentally friendly solution for heating, cooling, and lighting the home.
For more information on this and other similar products, check out this article and interview of the student inventors as well as their website, SmarterShade.com.
Despite hundreds of years of progress in the area of hygiene, we humans still produce a lot of mess. Luckily in this day and age, we have creative geniuses who have developed appliances to eliminate our odors, kill our germs and do our dirty work for us, all without having to hear them whine. Here are the 7 unluckiest appliances whose sole purpose is to make our lives easier (and you thought your job was bad).
7. Personal Bathroom Scale
From the moment you take your scale out of the cardboard box it came in, it will be frowned at, cursed out, stepped on, and spat upon. If scales had psyches, they would either suffer from bi-polar disorder or would be the bitter and catty fashionistas making snide remarks with the digital display– such as "Those pants DO make you look fat."
6. The Body Groomer
Its name evokes thoughts of a hygienic, cutting edge epilator. But it's really just a 'back hair' shaver. You know, for crony-tailed mid-lifers who want to lounge under the sun in their Borat one-piece.
Ewww… we don't want to know how often the razor needs changing.
Since, it's a best selling bathroom appliance; it must be good for those hard-to-reach places. *Shudder*
5. The Karaoke Machine
At least Simon Cowell is sitting on millions for eardrum abuse; too bad we can't say the same for the rest of us. The piteous karaoke machine is an electrical deity among appliances in Japan, but also the bane of bartenders in the south. Who ever thought it was a modern advancement to let drunk people have a microphone to sing Sheryl Crow in the same key used to discipline canines?
4. The Boot, Sneaker, and Glove Dryer
This tubular ventilation system is the little hairdryer that couldn't. It was designed to be a ski lodge amenity; however it mostly just sees rainy days and pet accidents. Even at the ritziest celebrity harem in Aspen, this machine still has to dehydrate Paris Hilton's foot sweat from her Ugg Boots.
3. The Oral Irrigator & Sanitizer
Does it keep your toothbrushes clean or do you rinse with it? Nobody knows for sure, although we all agree that it's a dirty, dirty job to fight mouthfuls of bacteria and rush in like a fool to greet the worst breath of the day – morning breath.
2. The Pool Vacuum
These faceless robots sweep the pine needles, band-aids, and beetles out from under your feet. They're fun little things to chase your kids with but they are the unfortunate technological equivalent of a bottom-feeder.
1. The Automatic Litterbox
The automatic litter box knows that poop happens several times a day because its daily duty is to clump it, deodorize it, and sweep it away before you have to see it or smell it. It's a hard-knock life being someone's toilet and by far, the most disgusting job of all.
Now that April showers have brought May flowers, summer is finally just around the corner.  Unfortunately for us heat-lovers, we've still got some time before we can unpack the short shorts and get out our bathing suits.
If you're having troubles getting rid of the winter blues and think you may not make it until the warm weather finally hits, you can add a touch of summer to your home with these adorable Beach Ball Lamps.
Designed by Toby Sanders, these lamps with their bright blues, reds, pinks, oranges, and yellows will brighten up any room and give you that fuzzy, summer feeling. Made from reused beach balls and non-toxic materials, these lamps not only bring vibrancy to the home, but they're great for the environment, too.
No matter how glum you are about the rainy weather outside, it's impossible not to feel good when lounging under these fun and creative Beach Ball Lamps.
Eco-friendly products are becoming mainstream as consumers demand greener versions of everyday items. Manufacturers have finally begun to meet the challenge as more and more eco-friendly products hit the marketplace. And these are not your grandmother's "green" products that used to be back-breaking and labor intensive. These are cutting-edge products that combine environmental concern and modern day convenience.
The Eco Toaster cooks your toast quicker and with 34% less electricity than conventional toasters. The innovative, auto-close lid keeps the heat in, which makes your toast cook faster. The toaster also has a variable bread width function which means that you don't have to give up versatility to go green.
Don't waste energy boiling water that you are not planning to use. The ECO Kettle is composed of 2 separate 8-cup chambers. The first reservoir is a holding chamber which can release anywhere from 1 cup to 8 cups of water into the boiling chamber. This means that you will only boil the exact amount of water you need. The Eco Kettle uses over 30% less energy than regular kettles and could potentially save 50kWh of electricity each year.
Most espresso machines are designed to be left on for long periods of time, thus using lots of electricity. The Presso Espresso Coffee Maker only uses enough energy to boil one cup of water.
The Presso works by filling the steel filter with coffee, attaching the filter to the Presso and pouring boiling water into the cylinder on top of the machine. The water is then forced through the coffee at a high enough pressure to produce café-style coffee within seconds.
The water-powered clock uses absolutely no electricity or batteries. Instead it runs on water or any type of electrolytic fluid, e.g. soda or coffee. Once the reservoir has been filled with liquid, the numbers appear on the clock like magic. What really happens is the internal converter extracts electrons from the fluid which provides a stream of electrical current that powers the clock.
The only maintenance required is to change the water once in a while.
The Eco Hair Dryer uses half of the energy of typical 2000W hair dryers. In fact, if you normally use your hair dryer for 10 minutes a day you will save enough energy to make 7 cups of tea or 11 pieces of toast each day.
The Eco-Heater is designed to be a low-cost heating alternative to traditional space heaters. It uses convection technology to heat an entire room while only using approximately the same amount of electricity as four 100 watt light bulbs.
The eco-heater mounts on your wall, can be painted to match your décor and can be left on for long periods of time without worry.
The Ecolectric Slow Cooker uses up to 44% less energy than competing slow cookers and 66% less energy then a full-size conventional oven. The insulated lid is the key component of the slow cookers low energy usage since it keeps the heat inside the cooker providing more efficient performance.
The Enviro Vac uses 30% less energy and picks up 20% more dirt than competitive vacuums. Its super efficient motor was designed to work as well as or better than competitive cleaners and only use 800 Watts of electricity compared to the norm of 1600+ Watts.
Make your own delicious ice cream or sorbet in 20 minutes with no ice, salt or electricity required. First freeze the Chillfast® cylinder overnight, then add your ingredients and turn the handle. The handle doesn't even call for constant motion; an occasional turn is all that is needed.
The Solar Mosquito Guard is a pocket-size, rechargeable personal mosquito repellant. It works by emitting a high frequency sound wave that repels pregnant female mosquitoes (which are usually the ones that bite). This means that you no longer need to purchase DEET-filled products which are harmful to you and the environment.
The portable, 6-liter Eco Mini Fridge is energy efficient and can be powered by your car adapter. It consumes an average of 33 Watts of electricity and uses no refrigerant which means that it is completely recyclable at the end of its lifespan. It also converts from a mini fridge to a portable oven with the flick of a switch. And the oven is capable of heating food to 65 degrees Celsius.
Recently, I did a post about futuristic furniture that looked like they were stolen straight from The Jetsons, but the real future of furniture is much more than just sleeping pods and colored LEDs.
Furniture of the future will be less about trendy designs and luxury and will focus more on efficiency, functionality and being environmentally conscious. A lot of these pieces are still in the concept stage and are probably not available at your local IKEA. However, it won't be long before these cutting-edge products are in homes across the country.
Flexible Furniture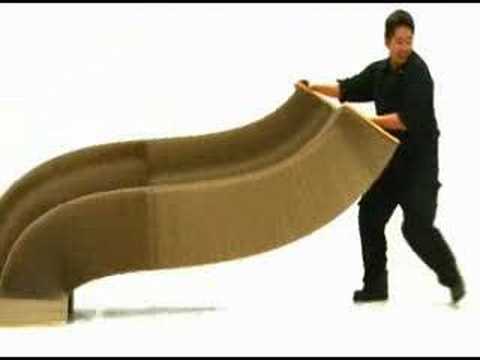 Flexible furniture is by far one of the most unique and useful furniture concepts I've seen. The FlexibleLove is experimental furniture that was designed to be durable and made from low-cost, recycled materials. Although this pieces gets its name from flexible and loveseat, this piece can be extended to hold between 1- 19 people.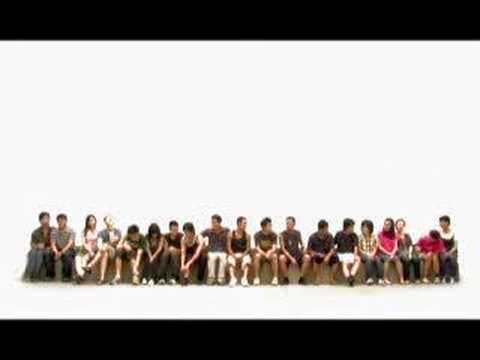 Expanding Furniture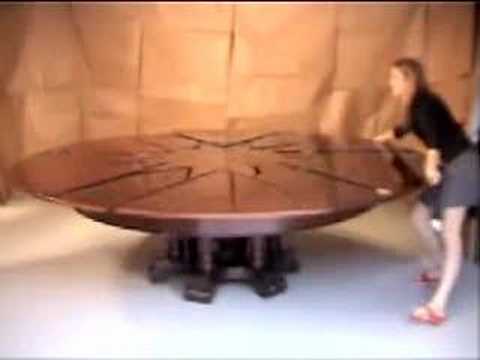 The Schwartz Table in the video above is part of a line by designers dbfletcher called Fletcher Capstan tables and it's a perfect example of taking an old concept and making it better. By simply turning the top, you can transform these small 4 person tables into one that can hold up to 12 people. These tables replace awkward inserts with one smooth, effortless motion.
Here's another take on a table that can be easily converted from a small table to a larger one.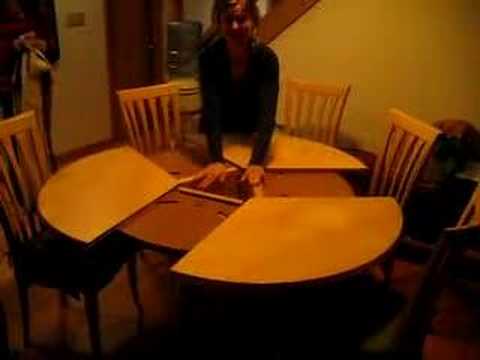 Collapsible Furniture
Designer Nils-Frederking focused on space-saving furniture that could be collapsed when not in use, rather than expanded. His folding table and chair look pretty simple, but they quickly show their complexity when he folds and unfolds them. Granted, this isn't the first folding chair to hit the market, but it's one of the best looking.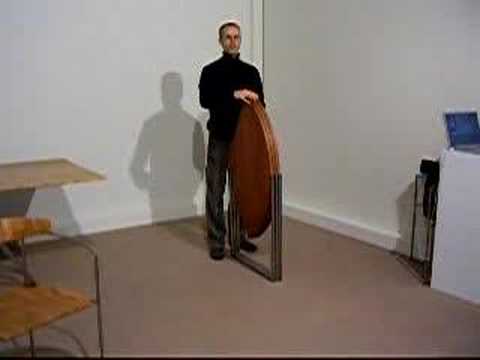 Moving Furniture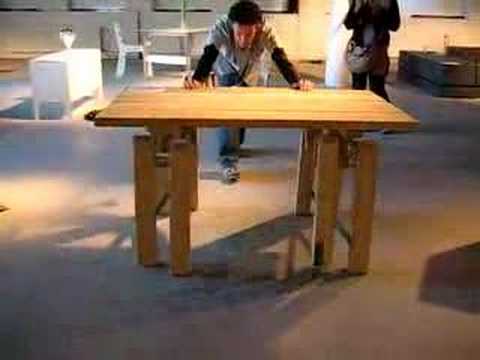 Even if you think its kind of creepy, you can't deny how incredibly cool and useful this table really is. Forget scratching the floors and straining your back when your table needs to move. Simply give it a push and the table literally walks itself across the floor. It was showcased at Dutch Design Week and I can't wait for this concept to be applied to every piece of furniture in the house.
Bonus
It's not technically considered a piece of furniture but I couldn't resist throwing in this flexible ceiling light.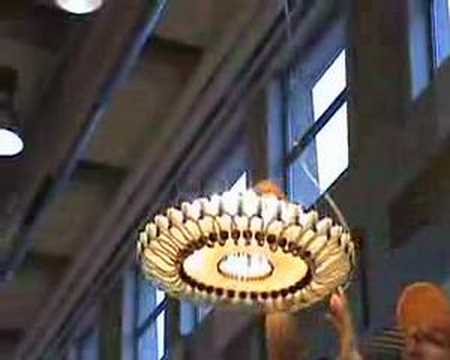 Unfortunately, I couldn't find any more information on it other than that it was showcased at the Dutch Design Week, but I hope this idea didn't go down the drain. Not only does it have a unique and even stylish look, but I just love the idea of being able to concentrate your lighting by collapsing and expanding it.
If you are looking for a fun piece of furniture to add to your living room, we have just the thing for you.
"Stop Playing With Yourself" is a combination puzzle and multi-purpose piece of furniture created by Australian designers Schamburg + Alvisse. It can be a sofa, chair, bed or just a star sculpture in your room. As a matter of fact, you may spend more time taking it apart and putting it back together than actually sitting or laying on it.
When decorating your home, there are tons of themes, concepts, colors and designs to choose from. Your home can be sleek and modern with stark colors and smooth shapes, have a cottage country feel with flowers, pastels and antique woods, or use bold colors and vintage pieces to create a retro retreat.
But if you'd rather look to the future instead of the past, and being simply 'current' isn't cutting-edge enough for you, opt for these futuristic furniture pieces that will make your home out-of-this-world.
The Abisko washbasin from Eumar is more than a bathroom sink. It is stunning cast mineral marble fashioned to replicate the fresh mountain springs and waterfalls from the Swedish national park, Abisko. The flowing design is meant to remind us that water is one of nature's precious resources and it is not in our best interest to let it pool in a big tub but to let it run free and to capture only what we need.
The Abisko washbasin dispenses with traditional drain pipes and other details. The fluid design incorporates very few components so that the water can spill freely down the length of the sink into the open grill to simulate the flow of water in nature.
Via: Trendir.com
I love Star Wars as much as everyone else but normally the traditional, commercial merchandise doesn't interest me. However, when I saw these precious, handmade Kokeshi dolls I knew I had to have them.
Each doll is hand painted and signed by the artist, Mulac, which makes them a great collectible. Han Solo and Princess Leia have never looked so adorable.
A Star Wars fan custom ordered this cool little Boba Fett, so take the force into your own hands and request something awesome, like an ewok or wookie.
Via: Fanboy.com