It's not ever day that a sweepstakes comes along that lets you help a good cause and win some cool prizes, so we wanted to help announce Paint Your Appliance Pink!
Officially kicking off July 1, 2009 and hosted by online appliance parts retailer, PartSelect.com, Paint Your Appliance Pink is an effort to help spread awareness and raise $10,000 for Breast Cancer Research. Oh and did I mention the prizes? There's also three Pink Prize Packages up for grabs!
Here's the basic run down. If you want to enter, all you have to do is show your support for Breast Cancer Research by painting a pink ribbon on any major appliance in your home. (Don't worry, it doesn't have to be huge and no, it doesn't have to be painted on the front).

Once you've Picasso-ed your appliance, send PartSelect a photo of your artwork by:
For every valid photo entry they receive, PartSelect will donate $25.00 to the Breast Cancer Research Foundation, up to a maximum of $10,000. All entries must be received by September, 30 2009.
But it doesn't stop there. You'll also be entered to win one of three Pink Prize Packages (valued at $369.97)!
Draws will be held on August 3, 2009, September 3, 2009, and October 3, 2009. The sweepstake is open to residents of Canada and the United States. You can check out the full details and official rules at Paint Your Appliance Pink.
So grab a paint brush and your favorite shade of pink and make sure PartSelect reaches their goal of $10,000.

I gotta have my gadgets. I've got gadgets for talking to friends, gadgets for listening to music, gadgets to make sure I can find my way home at night, gadgets for just about all of my needs. The thing is these gadgets require power, which means I've got to charge them up.
In the past I have always looked for ways to hide the tangle of wires that snake across my desk leading to an intertwined disaster against the wall. Most options available are just undesirable, glorified cord winders. And since affordable, energy-efficient, wireless chargers are still a thing of the future then maybe I should start thinking about my wires in a different way.
What if I were to celebrate my wires, embrace them, welcome them into my life? Would they sprout leaves and bloom because of the affection I have poured onto them? Maybe they would look like this design concept created by MicroWorks. The vine camouflage is a thing of beauty.
And what if MicroWorks were to use Gizmodo's idea to expand their idea into something more elaborate - like a plant charging station where the branches could double as charging cables. Perhaps our gadgets could be transformed into an aesthetically pleasing tropical paradise of energy rejuvenation. You've got to admit, that sounds pretty spectacular.
Despite hundreds of years of progress in the area of hygiene, we humans still produce a lot of mess. Luckily in this day and age, we have creative geniuses who have developed appliances to eliminate our odors, kill our germs and do our dirty work for us, all without having to hear them whine. Here are the 7 unluckiest appliances whose sole purpose is to make our lives easier (and you thought your job was bad).
7. Personal Bathroom Scale
From the moment you take your scale out of the cardboard box it came in, it will be frowned at, cursed out, stepped on, and spat upon. If scales had psyches, they would either suffer from bi-polar disorder or would be the bitter and catty fashionistas making snide remarks with the digital display– such as "Those pants DO make you look fat."
6. The Body Groomer
Its name evokes thoughts of a hygienic, cutting edge epilator. But it's really just a 'back hair' shaver. You know, for crony-tailed mid-lifers who want to lounge under the sun in their Borat one-piece.
Ewww… we don't want to know how often the razor needs changing.
Since, it's a best selling bathroom appliance; it must be good for those hard-to-reach places. *Shudder*
5. The Karaoke Machine
At least Simon Cowell is sitting on millions for eardrum abuse; too bad we can't say the same for the rest of us. The piteous karaoke machine is an electrical deity among appliances in Japan, but also the bane of bartenders in the south. Who ever thought it was a modern advancement to let drunk people have a microphone to sing Sheryl Crow in the same key used to discipline canines?
4. The Boot, Sneaker, and Glove Dryer
This tubular ventilation system is the little hairdryer that couldn't. It was designed to be a ski lodge amenity; however it mostly just sees rainy days and pet accidents. Even at the ritziest celebrity harem in Aspen, this machine still has to dehydrate Paris Hilton's foot sweat from her Ugg Boots.
3. The Oral Irrigator & Sanitizer
Does it keep your toothbrushes clean or do you rinse with it? Nobody knows for sure, although we all agree that it's a dirty, dirty job to fight mouthfuls of bacteria and rush in like a fool to greet the worst breath of the day – morning breath.
2. The Pool Vacuum
These faceless robots sweep the pine needles, band-aids, and beetles out from under your feet. They're fun little things to chase your kids with but they are the unfortunate technological equivalent of a bottom-feeder.
1. The Automatic Litterbox
The automatic litter box knows that poop happens several times a day because its daily duty is to clump it, deodorize it, and sweep it away before you have to see it or smell it. It's a hard-knock life being someone's toilet and by far, the most disgusting job of all.
Now that April showers have brought May flowers, summer is finally just around the corner.  Unfortunately for us heat-lovers, we've still got some time before we can unpack the short shorts and get out our bathing suits.
If you're having troubles getting rid of the winter blues and think you may not make it until the warm weather finally hits, you can add a touch of summer to your home with these adorable Beach Ball Lamps.
Designed by Toby Sanders, these lamps with their bright blues, reds, pinks, oranges, and yellows will brighten up any room and give you that fuzzy, summer feeling. Made from reused beach balls and non-toxic materials, these lamps not only bring vibrancy to the home, but they're great for the environment, too.
No matter how glum you are about the rainy weather outside, it's impossible not to feel good when lounging under these fun and creative Beach Ball Lamps.
The toilet paper roll is the unsung hero of the bathroom. It stoically does its job day after day without any sign of recognition. Firmly keeping the toilet paper in place and making sure it is easily accessible when you need it the most. And then once the toilet paper is gone the lowly toilet paper roll is usually thrown away and forgotten.
But some creative artisans have decided to give the toilet paper roll a new life. The creations range from basic kids crafts to works of art that will surprise and delight you.
If you are looking for a fun piece of furniture to add to your living room, we have just the thing for you.
"Stop Playing With Yourself" is a combination puzzle and multi-purpose piece of furniture created by Australian designers Schamburg + Alvisse. It can be a sofa, chair, bed or just a star sculpture in your room. As a matter of fact, you may spend more time taking it apart and putting it back together than actually sitting or laying on it.
Gene provides so many reasons for doing repairs yourself. You never know what you are going to get from the local handyman.
A MyBadPad original feature. Read more
I love Star Wars as much as everyone else but normally the traditional, commercial merchandise doesn't interest me. However, when I saw these precious, handmade Kokeshi dolls I knew I had to have them.
Each doll is hand painted and signed by the artist, Mulac, which makes them a great collectible. Han Solo and Princess Leia have never looked so adorable.
A Star Wars fan custom ordered this cool little Boba Fett, so take the force into your own hands and request something awesome, like an ewok or wookie.
Via: Fanboy.com
We had so much fun watching Rednecks blow up appliances that we thought we'd do it again. And we figured that the bigger the appliance, the bigger the explosion.
Who knew there were so many options for getting rid of your faithful old refrigerator? Most people just recycle it, donate it or dump it but these fine folks think that taking it out back and shooting it is a better idea.
Two pounds of Tannerite vs. One Fridge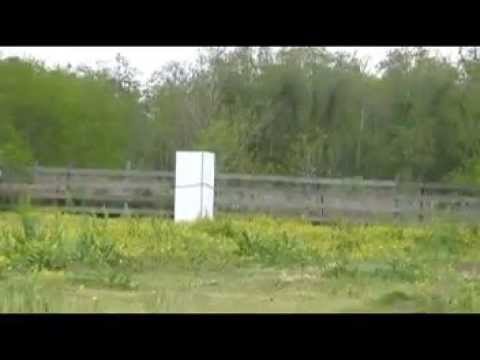 4 pounds of Tannerite + 1 great shot = 450 feet of refrigerator wreckage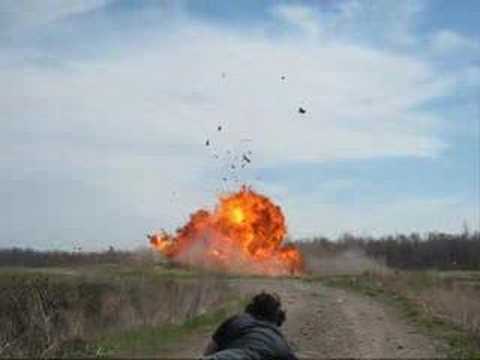 Insert evil laugh here…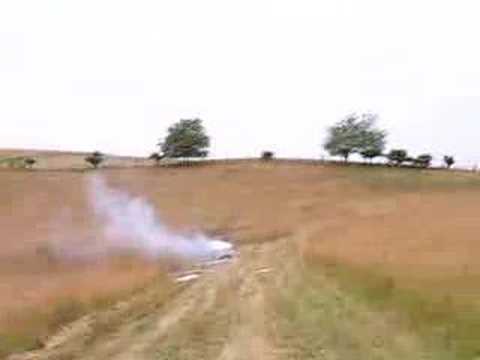 Blowing refrigerators up on the down-low…
(how hard would it be to hunt down a redneck in a fedora?)
Someone should tell them the fridge door opens…
Instant Replay
Easter will be hopping upon us in just a few days and what's Easter without a cute little bunny?
Ruby Re-Usable has created this lovable little WonderBunny out of plastic Wonder bags, bubble wrap and clear packing tape. Wonder Bunny is a festive way to reuse those old bread bags and create something new and adorable. But if you aren't creative enough to make one of your own, then check out Ruby's Etsy store to purchase one of these colorful creatures for yourself.
Via: ToyCyte.com