It's not ever day that a sweepstakes comes along that lets you help a good cause and win some cool prizes, so we wanted to help announce Paint Your Appliance Pink!
Officially kicking off July 1, 2009 and hosted by online appliance parts retailer, PartSelect.com, Paint Your Appliance Pink is an effort to help spread awareness and raise $10,000 for Breast Cancer Research. Oh and did I mention the prizes? There's also three Pink Prize Packages up for grabs!
Here's the basic run down. If you want to enter, all you have to do is show your support for Breast Cancer Research by painting a pink ribbon on any major appliance in your home. (Don't worry, it doesn't have to be huge and no, it doesn't have to be painted on the front).

Once you've Picasso-ed your appliance, send PartSelect a photo of your artwork by:
For every valid photo entry they receive, PartSelect will donate $25.00 to the Breast Cancer Research Foundation, up to a maximum of $10,000. All entries must be received by September, 30 2009.
But it doesn't stop there. You'll also be entered to win one of three Pink Prize Packages (valued at $369.97)!
Draws will be held on August 3, 2009, September 3, 2009, and October 3, 2009. The sweepstake is open to residents of Canada and the United States. You can check out the full details and official rules at Paint Your Appliance Pink.
So grab a paint brush and your favorite shade of pink and make sure PartSelect reaches their goal of $10,000.

How many people does it take to create a window accessory that provides energy savings of up to 25%? The answer is three University of Notre Damn students.
Will McLeod, Mike Stacey, and Ryan Tatzel, all students at UND, created the SmarterShade - an aftermarket window accessory that regulates the amount of heat and light that is allowed through the glass. The SmarterShade actually allows the window to be adjusted from clear to dark (and various degrees in between) using a remote, which ultimately increases or decreases the amount of light and heat let through.
It completely eliminates the need for window treatments such as blinds or curtains and is incredibly easy to install. Homeowners simply snap the SmarterShade in place within any window and it's ready to be used. Besides the obvious savings from having such an energy efficient window treatment, it's also easy to clean, keeps you healthy by blocking UV rays and can be applied to any of your existing windows.
The SmarterShade model currently available costs about $200.00 and runs on battery power (for the remote control tint). However, the future of SmarterShades will hopefully run only on solar power. The SmarterShades are a unique and ingenious window treatment that will not only save the homeowner in monthly bills, but also offers a more environmentally friendly solution for heating, cooling, and lighting the home.
For more information on this and other similar products, check out this article and interview of the student inventors as well as their website, SmarterShade.com.
Now that April showers have brought May flowers, summer is finally just around the corner.  Unfortunately for us heat-lovers, we've still got some time before we can unpack the short shorts and get out our bathing suits.
If you're having troubles getting rid of the winter blues and think you may not make it until the warm weather finally hits, you can add a touch of summer to your home with these adorable Beach Ball Lamps.
Designed by Toby Sanders, these lamps with their bright blues, reds, pinks, oranges, and yellows will brighten up any room and give you that fuzzy, summer feeling. Made from reused beach balls and non-toxic materials, these lamps not only bring vibrancy to the home, but they're great for the environment, too.
No matter how glum you are about the rainy weather outside, it's impossible not to feel good when lounging under these fun and creative Beach Ball Lamps.
Recently, I did a post about futuristic furniture that looked like they were stolen straight from The Jetsons, but the real future of furniture is much more than just sleeping pods and colored LEDs.
Furniture of the future will be less about trendy designs and luxury and will focus more on efficiency, functionality and being environmentally conscious. A lot of these pieces are still in the concept stage and are probably not available at your local IKEA. However, it won't be long before these cutting-edge products are in homes across the country.
Flexible Furniture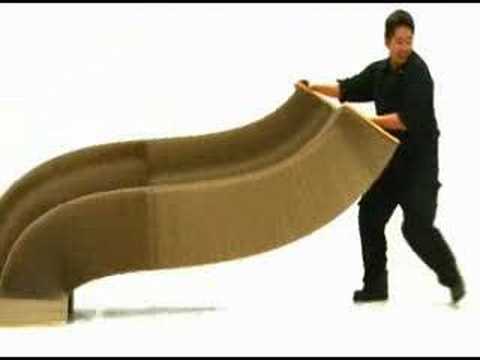 Flexible furniture is by far one of the most unique and useful furniture concepts I've seen. The FlexibleLove is experimental furniture that was designed to be durable and made from low-cost, recycled materials. Although this pieces gets its name from flexible and loveseat, this piece can be extended to hold between 1- 19 people.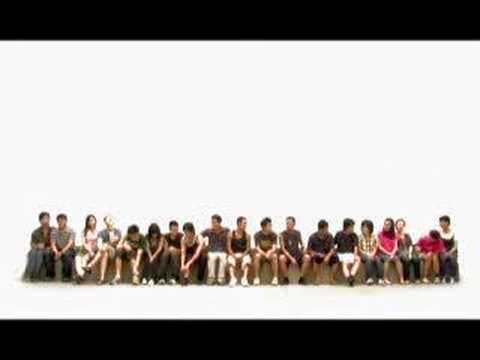 Expanding Furniture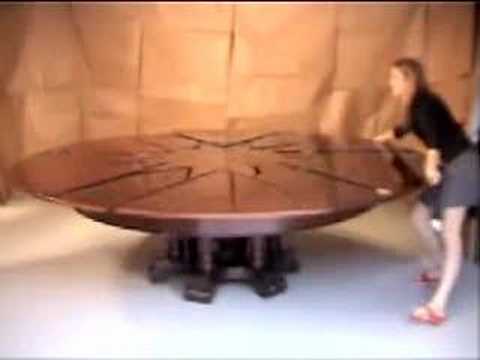 The Schwartz Table in the video above is part of a line by designers dbfletcher called Fletcher Capstan tables and it's a perfect example of taking an old concept and making it better. By simply turning the top, you can transform these small 4 person tables into one that can hold up to 12 people. These tables replace awkward inserts with one smooth, effortless motion.
Here's another take on a table that can be easily converted from a small table to a larger one.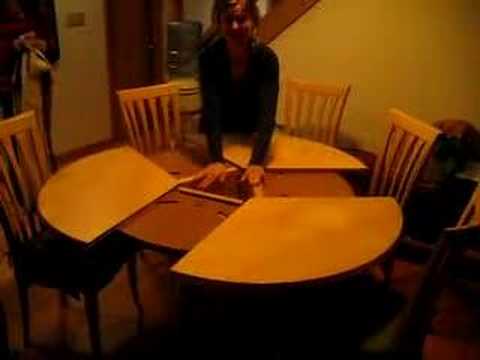 Collapsible Furniture
Designer Nils-Frederking focused on space-saving furniture that could be collapsed when not in use, rather than expanded. His folding table and chair look pretty simple, but they quickly show their complexity when he folds and unfolds them. Granted, this isn't the first folding chair to hit the market, but it's one of the best looking.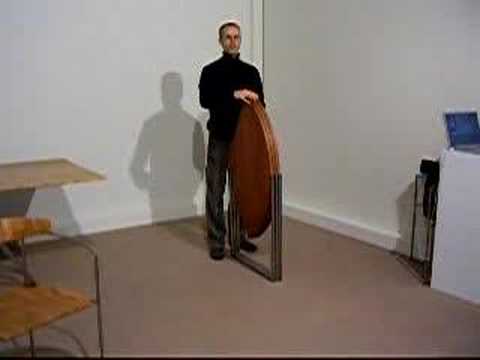 Moving Furniture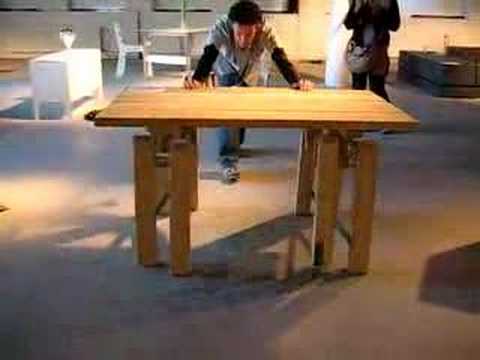 Even if you think its kind of creepy, you can't deny how incredibly cool and useful this table really is. Forget scratching the floors and straining your back when your table needs to move. Simply give it a push and the table literally walks itself across the floor. It was showcased at Dutch Design Week and I can't wait for this concept to be applied to every piece of furniture in the house.
Bonus
It's not technically considered a piece of furniture but I couldn't resist throwing in this flexible ceiling light.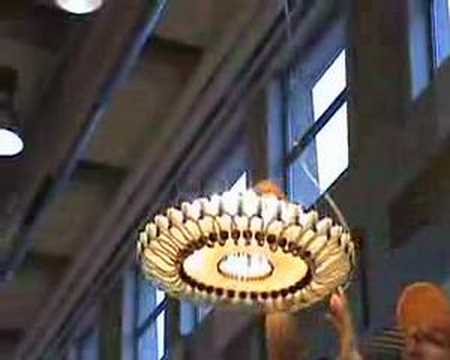 Unfortunately, I couldn't find any more information on it other than that it was showcased at the Dutch Design Week, but I hope this idea didn't go down the drain. Not only does it have a unique and even stylish look, but I just love the idea of being able to concentrate your lighting by collapsing and expanding it.
When decorating your home, there are tons of themes, concepts, colors and designs to choose from. Your home can be sleek and modern with stark colors and smooth shapes, have a cottage country feel with flowers, pastels and antique woods, or use bold colors and vintage pieces to create a retro retreat.
But if you'd rather look to the future instead of the past, and being simply 'current' isn't cutting-edge enough for you, opt for these futuristic furniture pieces that will make your home out-of-this-world.
As world leaders pledge to reduce carbon emissions and the importance of protecting the environment continues to grow globally, individuals and businesses are searching for ways to decrease their impact on the environment. It's no surprise then that professional sports leagues are beginning to develop and encourage ways in which they can become more environmentally friendly, too.
This comes as a great relief to environmental critics, especially considering one baseball game can produce 760,000 bottles and cans that are discarded in the trash rather than recycled, one football stadium can produce about 100,750 tons of carbon dioxide per game, or that NASCAR's total fuel consumption for an entire season has been estimated at 2 million U.S. gallons.
The decision for national sports teams to promote green initiatives is an important step. Not only will it positively effect the environment while the teams are on the field, but it also has the potential to influence their millions of fans to be green off the field.
1.    Major League Baseball
With 30 teams, 162 games per season, and on average, 80 million spectators, Major League Baseball (MLB) certainly provides its fair share of the negative environmental impact caused by professional sports.
However, due to initiatives over the past few years, the MLB is quickly becoming one of the greenest professional sports leagues. Last year, the MLB partnered with the National Resource Defense Council (NRDC) to create a Team Greening Program.
This was the first league-wide environmental protection program and aims to organize and support environmentally sensitive practices. The Team Greening Program plans to:
Create club eco-committees.
Provide information on how to offset carbon emissions from the team and fan transportation, as well as, facts and resources to assist each team in assessing their environmental impact and how to reduce it.
Create an official environmental policy.
Add environmental policies and language to contracts.
Reduce the use of paper in offices and switch to recycled paper products.
Work towards renewable energy use.
Encourage fans to make environmental changes in their own homes.
The MLB has also made significant changes to their baseball parks across the country. They now have recycling bins for plastic cups and bottles and the vending machines are being made more energy-efficient. Solar panels have been installed to provide some of the energy used for games and even the grounds crew is switching to more environmentally friendly cleaners.
Not only are changes being made for the league as a whole, but individual teams are taking the green movement into their own hands. The Atlanta Braves have built the first ballpark stadium that meets standards created by the U.S. Green Building Council, the Pittsburgh Pirates are using corn-based cups, soy-based ink, and recycled toilet paper, the Boston Red Sox have installed solar panels and the Seattle Mariners recycle food waste, paper and plastic.
2.    National Football League
The MLB is certainly tackling the environment dilemma from all angles, but the National Football League (NFL) is also doing their fair share to make football a green sport.
Although the NFL has had an environmental program since 1992, it wasn't until recently the league has begun making key improvements, particularly when it comes to the Super Bowl. The program has been working to:
Improve solid waste management at all NFL facilities.
Develop environmental guidelines for all contractors and vendors.
Donate food and leftover building material, office supplies, and sports equipment.
Make any Super Bowl event carbon neutral.
For the 2008 Super Bowl, the NFL committed to planting 2,700 trees to help offset gas-emissions and the Tampa Electric Company provided renewable energy for 100% of the electricity needs for the game.
At the team level, the Philadelphia Eagles have taken the greatest responsibility for the environment and developed ways to decrease their environmental footprint.
In 2007, the Eagles developed an ambitious program that rewarded all Eagle employees who signed up for Wind Energy. The employees are then reimbursed by the team so there is no out of pocket cost. In 2008, the Eagles purchased 14 million kilowatts of wind power to help the team run on 100% renewable energy at both their Lincoln Financial Field and their training facilities.
As a result of their initiatives, the Eagles have managed to switch 25% of the team's energy use to renewable sources, avoided 65 tons of greenhouse emission and 2 billion BTUs of dirty energy generation, and also saved 100,000 trees.
3.    National Hockey League
Although hockey is sometimes considered a cleaner sport than others due to shorter schedules and smaller arenas, there is a still a huge footprint left behind from this sport.
In 2007, the National Hockey League (NHL) partnered with The GreenLife Organization to develop solutions to help the league go green. The program focuses on:
Creating green initiatives.
Identifying areas that need improvement.
Offsetting carbon emissions.
Switching to renewable energy.
Generating public awareness and promote green living outside the sport.
Like the MLB, the NHL has also been working with the NRDC to provide advice and resources to reduce each NHL club's impact. The league has also had much success with the NHLPA Carbon Neutral program that encourages players to take action to decrease their footprint on and off the ice.
The program was developed by the National Hockey League Players Association (NHLPA) and the David Suzuki Foundation. So far, the program has helped offset more than 4,200 tonnes of carbon emissions this season and 420 NHLPA members have signed on for year two.
4.    National Basketball Association
The National Basketball Association has also teamed up with the NRDC to develop programs and events that will help generate awareness and funding to protect the environment.
While the NBA's partnership with NRDC isn't as extensive as the MLB or NHL, they are still taking positive steps toward preserving the environment.
The inaugural NBA Green Week, which was held between April 2 and April 10 2009, is a week-long event that engages all 30 teams in auctions, community service programs, and public service announcements. They are also working to create a new micro-website, www.nba.com/green that will feature green tips for fans.
Noted environmentalist and actor, Robert Redford was involved, as well as Addidas, who pledged to outfit players with 100% organic shirts. The NBA store will also host Recycling Dreams, a footwear drive to collect gently used athletic shoes.
Beyond public awareness events, the NBA is working with NRDC to offset energy usage and waste in offices and arenas. Green modifications that are currently underway include:
Installing solar panels and wind-powered energy sources.
Installing water-saving fixtures.
Using organic food in concessions.
Encouraging public transportation.
Creating a recycling program.
5.    NASCAR
Understandably, a sport that involves very fast cars with low miles per gallon, circling a track 500 times is a hard sport to make environmentally friendly.
However, where others may choose the easy road, NASCAR has decided to take the green road and make an effort to reduce their negative impact.
In 2007, NASCAR partnered with the Environmental Protection Agency and announced that they would switch to unleaded racing fuel by the start of the 2008 season. NASCAR's environmental services provider, Safety-Kleen has also begun collecting the 240 million gallons of used motor oil to re-refine and reuse. Beyond the obvious benefit of reusing the oil rather than throwing it out, re-refined oil also uses 85 percent less energy than making new oil.
NASCAR also participates in National Car Care Month where they help promote better car maintenance, which in turn increases vehicle performance and reduces fuel consumption.
Even some speedways are getting involved to help make a difference. The Michigan International Speedway preserves 200 acres of wetlands and is looking to use wind and solar energy within the next 10-12 months.
While many argue these steps don't entirely negate the negative impact professional sports can have on the environment, the initiatives do make a difference. If you consider how many professional sports teams there are, simply making even the smallest step can have a massive affect not only on the environment, but also on the millions of fans who watch them.
Manufacturers have been developing combo appliances and all-in-one kitchen units for years now and many homeowners have been thankful for the dual or triple functions these space saving units can provide.
However, many of these units look cumbersome or awkward when actually placed in the kitchen. That was, until YesterTec developed the Armoire Kitchen.
This seven feet tall by six feet wide maple cabinet appears to be just a beautiful storage piece, but when the doors are folded back, it reveals an entire kitchen unit. Complete with stainless steel sink, microwave with hood, 2 burner cooktop, refrigerator/freezer combo, dishwasher, and of course countertop space and shelving for any pantry items, this unit is an incredibly efficient, self-contained kitchen.
The Armoire Kitchen is refreshingly simple and clean, and offers a wonderful way of saving space without compromising on features or functionality. The starting price for this cabinet is around $9,300.00, but considering how much each of these appliances would cost separately, it's a pretty good price. Plus, it's portable so if you need to move, you can take the Armoire Kitchen with you.
When most homeowners think of Smart Homes, they think high-tech electronics, sophisticated security systems and high installation costs. While this is generally true, many smart appliances can achieve smart home goals without breaking the bank.
Large Smart Home upgrades can require major restructuring to the home's electrical system and can cost between $10,000 - $250,000, depending on how 'smart' the home is. But homeowners can begin converting to a Smart Home simply by purchasing Smart Home Appliances.
These appliances range in features and cost, but can offer homeowners convenience, more control, peace of mind, independence and even help save on monthly bills. By upgrading in small steps, homeowners can receive the benefits of a Smart Home without breaking the bank.
1. Beyond Internet Coffee Maker
It seems like a very small place to start, but even a coffee maker can be the first step towards a Smart Home. The Beyond Internet Coffee Maker merges with the internet to give homeowners control over when they want a cup of coffee.
It has a built in 'Grind and Brew' like most other coffee makers, but it can be programmed and rescheduled to brew coffee from any web browser. This luxury means fresh coffee will be ready when you are instead of having to drink old coffee that has been sitting in the warming mode.
2. Fisher and Paykel Active Smart Refrigerator
The Active Smart Refrigerator from Fisher and Paykel may look like a regular fridge but it offers much more than that. The main feature of this fridge is the Active Smart System which has two variable speed fans to provide faster cooling and heating throughout each level of the fridge and freezer. The system continually adjusts the flow of cold air based on daily use; making sure the temperature is at a safe degree for food freshness.
The Humidity Control System allows you to customize the humidity for each crisper drawer and the Variable Capacity Compressor allows for greater energy efficiency. The door also comes with an alarm to alert homeowners if the fridge door has been left open; another way to help reduce wasted energy and lower monthly bills. Everything can be controlled using the External Electronic Interface.
3. Whirlpool Centralpark Refrigerator
During CES 2008, Whirlpool unveiled their concept for an intelligent refrigerator that they believe will help unclutter consumers' kitchens and maximize efficiency.
The Whirlpool Centralpark Refrigerator has a plug and play platform for consumer electronics that clears countertops and clutter from the front of the fridge. With the centralpark connection, homeowners will have an interchangeable connection point where they can connect their cellphone or photo frame. Homeowners can also connect iPods or digital music players, for music on demand while they are busy in the kitchen.
Beyond photos and music, there are several other add-ons available such as the Cozi Family Organizational Software that can help families manage schedules and tasks, as well as the Quartet Qnote Message Center by Acco Brands that offers a superior dry-erase writing surface that's completely customizable.
4. Multimedia Hoods
The Imago+ Multimedia Hood from Faber worries less about energy efficiency and more about added convenience and entertainment. This steel/glass kitchen hood houses a 19-inch LCD TV with a 1,440 x 900 resolution and 850:1 contrast ratio. This TV has an analog and digital tuner, on board recipes, Internet, video call, multimedia player, webcam and USB input.
ILVE has their own version of a multimedia hood called VELA. It only comes with a 10-inch LCD TV built in, but also has a remote control and a RCA input/output for hooking up a cable box, DVD player, or game console.
With these multimedia hoods, homeowners can watch their favorite cooking show, receive a video call and keep an eye on their children in the next room.
5. The Ultimate Kitchen Combo
Rather than focusing on improving just one home appliance, John Lewis has decided to tackle them all and create the Ultimate Kitchen Combo. This combo is a 4-in-1 system that includes a wall mounted coffee machine, an electric oven, a steam oven, and a 19-inch LCD TV.
This kitchen-in-1 provides all the basic cooking necessities and surprisingly, looks incredibly sleek and uncluttered.
6. Demy Recipe Reader
For the homeowner who can't afford purchasing new major appliances, the Demy Recipe Reader by Key Ingredient can still add intelligence to your kitchen. This 7-inch display touchscreen has storage for up to 2,500 recipes, three kitchen timers, a measurement conversion calculator, an ingredient substitution dictionary and USB connectivity for syncing with a PC. It's also guaranteed 'kitchen-safe'.
7. Verizon Hub Home Phone
Verizon Wireless has just launched an intelligent home phone called the Verizon Hub that's designed to replace old fashioned home phones with a sophisticated home communication system that merges landline and wireless connectivity.
The Hub comes with a 7-inch touchscreen display that has the ability to sync your calendar, traffic, weather reports, and of course, contacts. The Hub allows for texting from your home phone for those text addicts and can even order pizza, provide maps and directions, and preview trailers for upcoming movies. The Hub uses your existing broadband connection and will work with current Verizon wireless subscribers.
8. Smart Meters
New to the US market, Smart Meters are an advanced electrical meter that will offer homeowners an entirely new way of managing their electricity use and monthly bills. Smart Meters will record the total household electricity consumption hour by hour and then send this information real-time to the utility company.
By doing this, Smart Meters will provide an economical way of measuring this information and allow price setting agencies to introduce new prices for consumption based on time of day or season. By billing customers based on how much electricity they use at certain times of day, it will force them to adjust consumption habits and be more responsive to market prices. These meters will also help control the rapid increase of electricity prices and reduce the need to purchase energy from higher priced sources.
Currently California is looking to install 5.3 million Smart Meters between 2009 and 2012. It's also hoped that this same process can be applied to natural gas and water consumption.
9. Smart Thermostats
Smart Thermostats are interactive 'communicating' thermostats that can 'talk' with each other and help reduce unnecessary use of the home's heating and cooling systems. They can manage and adjust the home's energy consumption based on current prices and necessity.
Smart Thermostats can even be programmed to allow homeowners to create heating and cooling schedules based on time of day or if the home is vacant or occupied. If you have zoned heating and cooling, these thermostats can be programmed to heat certain areas of the home at certain times.
By programming a Smart Thermostat to work around your schedule, homeowners can save as much as 30 percent annually. These thermostats also use the home's heating and cooling more efficiently which has a positive impact on the environment and on the homeowner's monthly energy bills. EcoBee's Smart Thermostat promises to pay for itself in energy cost savings by the first year and a half of use.
10. Smart Home Lighting
In the US, home lighting accounts for 20% of all electricity consumed and 50% of that is wasted on inefficient light sources, such as unoccupied rooms. By using Smart Home Lighting, homeowners can use indoor and outdoor lighting more efficiently which will help conserve energy and save them money.
One of the most common and easiest forms of Smart Home Lighting is a dimmer switch or a dimmer module. By programming dimmer switches to turn on and off only when needed, they can potentially save up to 60% more energy and make your bulbs last up to 20 times longer. Homeowners can even add motion sensors that automatically turn off the lights when no one is in the room for increased efficiency.
There are several areas homeowners can use Smart Home products to improve their life, and Smart Appliances are only one part. The home automation market continues to grow every year and new products are being developed that are more affordable, more efficient, and more convenient.
For more information:
Smart Home Is Still Looking For A Market
There are tons of great decorating tips for homeowners on how to express themselves through paint, wall treatments, flooring, and art. When a person owns a home, it is literally their canvas in which they can reveal their personality.
However, there are many of those who have their self-expression stifled by the fact they are renting an apartment. There are very few landlords willing to let their tenants paint the walls blood-orange red and a lot of the time, renters aren't even allowed to hang anything on the walls.
So for those who haven't entered the home-owning stage of their lives, there are ways to make your apartment feel like a home while still keeping your landlord happy.
If your landlord isn't willing to let you paint the walls, the next best thing are wall decals. They come in various styles and colors from sophisticated to silly and are a great way to spruce up those boring off-white walls. Since they peel off easily, with no damage left behind, you can add your own unique touch to your apartment that can be removed when you move out.
If you have some art or photos that you really want to show off, there are lots of products on the market that let you hang pictures on the wall without leaving any holes or marks behind. Just check out your local hardware store for some hanging solutions.
Since redoing your apartment floor is probably not a possibility and is an expensive way to decorate a space you're not going to live in forever, opt for a luxurious and vibrant rug to hide that ugly shag carpet.
If screwing in a curtain rod is out of the question, you can still add some privacy and color to your windows with temporary blinds, like RediShade. These shades are easy to install, require no drills or screws and can be customized to suit your needs. The best part is you can remove them when you move out and take them with you.
Finally, the absolute best way to add your own personal touch to your apartment is to accessorize, accessorize, accessorize! Use funky lamps, bold pillows and throws, lush greenery, and anything else you can find that expresses your tastes.
Even if your walls are bare and plain, you can create a look that's trendy and uniquely you by surrounding yourself with decorative accessories.
It's simple, it's quick, and it's the perfect compliment to a bacon and eggs breakfast. That's right, I'm talking about toast. With just the push of a button and a few minutes of your time, you can transform regular, old bread into golden, toasted goodness.
Look inside any kitchen and you're bound to find a traditional toaster sitting on the counter, but just as major appliances evolve over time, the toaster has had a few updates too.
We've talked about some awesome toaster combinations before, but here are two unique toasters that will take your breakfast to the next level.
The VHS Toaster
This geeked-out VHS Toaster is certainly one of a kind and adds an old school touch to your toast. Insert your preferred choice of white or whole wheat bread, push play and in just a few short minutes, your VHS toast pops out the cassette slot.
While you can't buy this baby in the store, a toast-loving mastermind has offered up instructions on how to make your own.
The Portable Toaster
The Portable Toaster
is more practical but equally as cool. This device is hand held, made of reinforced ceramic and is shaped much like a cake knife. By using CarboNano technology, the ceramic knife is capable of generating enough heat to toast your bread, in about the same time it would take a conventional toaster.
The butterfly design lets you know how toasted your bread will be so you'll never have to worry about burnt toast again. The Portable Toaster does need to be charged in between uses but it's perfect for work, camping, or anyone who just really loves toast.
This toaster should be available sometime in 2009.