Manufacturers have been developing combo appliances and all-in-one kitchen units for years now and many homeowners have been thankful for the dual or triple functions these space saving units can provide.
However, many of these units look cumbersome or awkward when actually placed in the kitchen. That was, until YesterTec developed the Armoire Kitchen.
This seven feet tall by six feet wide maple cabinet appears to be just a beautiful storage piece, but when the doors are folded back, it reveals an entire kitchen unit. Complete with stainless steel sink, microwave with hood, 2 burner cooktop, refrigerator/freezer combo, dishwasher, and of course countertop space and shelving for any pantry items, this unit is an incredibly efficient, self-contained kitchen.
The Armoire Kitchen is refreshingly simple and clean, and offers a wonderful way of saving space without compromising on features or functionality. The starting price for this cabinet is around $9,300.00, but considering how much each of these appliances would cost separately, it's a pretty good price. Plus, it's portable so if you need to move, you can take the Armoire Kitchen with you.
We had so much fun watching Rednecks blow up appliances that we thought we'd do it again. And we figured that the bigger the appliance, the bigger the explosion.
Who knew there were so many options for getting rid of your faithful old refrigerator? Most people just recycle it, donate it or dump it but these fine folks think that taking it out back and shooting it is a better idea.
Two pounds of Tannerite vs. One Fridge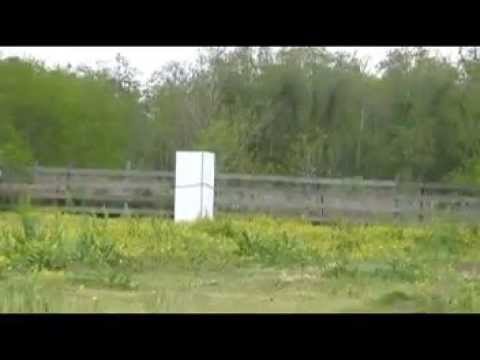 4 pounds of Tannerite + 1 great shot = 450 feet of refrigerator wreckage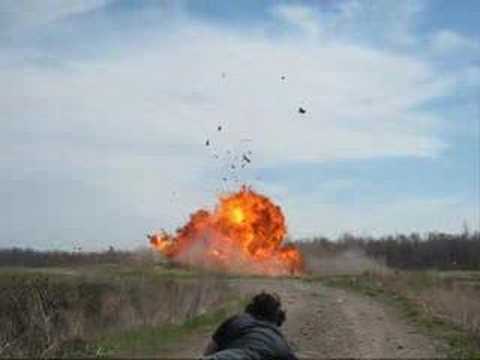 Insert evil laugh here…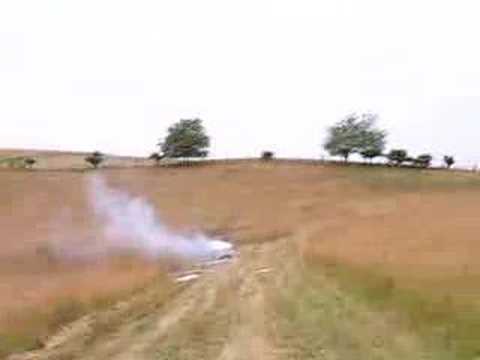 Blowing refrigerators up on the down-low…
(how hard would it be to hunt down a redneck in a fedora?)
Someone should tell them the fridge door opens…
Instant Replay
Easter will be hopping upon us in just a few days and what's Easter without a cute little bunny?
Ruby Re-Usable has created this lovable little WonderBunny out of plastic Wonder bags, bubble wrap and clear packing tape. Wonder Bunny is a festive way to reuse those old bread bags and create something new and adorable. But if you aren't creative enough to make one of your own, then check out Ruby's Etsy store to purchase one of these colorful creatures for yourself.
Via: ToyCyte.com
When most homeowners think of Smart Homes, they think high-tech electronics, sophisticated security systems and high installation costs. While this is generally true, many smart appliances can achieve smart home goals without breaking the bank.
Large Smart Home upgrades can require major restructuring to the home's electrical system and can cost between $10,000 - $250,000, depending on how 'smart' the home is. But homeowners can begin converting to a Smart Home simply by purchasing Smart Home Appliances.
These appliances range in features and cost, but can offer homeowners convenience, more control, peace of mind, independence and even help save on monthly bills. By upgrading in small steps, homeowners can receive the benefits of a Smart Home without breaking the bank.
1. Beyond Internet Coffee Maker
It seems like a very small place to start, but even a coffee maker can be the first step towards a Smart Home. The Beyond Internet Coffee Maker merges with the internet to give homeowners control over when they want a cup of coffee.
It has a built in 'Grind and Brew' like most other coffee makers, but it can be programmed and rescheduled to brew coffee from any web browser. This luxury means fresh coffee will be ready when you are instead of having to drink old coffee that has been sitting in the warming mode.
2. Fisher and Paykel Active Smart Refrigerator
The Active Smart Refrigerator from Fisher and Paykel may look like a regular fridge but it offers much more than that. The main feature of this fridge is the Active Smart System which has two variable speed fans to provide faster cooling and heating throughout each level of the fridge and freezer. The system continually adjusts the flow of cold air based on daily use; making sure the temperature is at a safe degree for food freshness.
The Humidity Control System allows you to customize the humidity for each crisper drawer and the Variable Capacity Compressor allows for greater energy efficiency. The door also comes with an alarm to alert homeowners if the fridge door has been left open; another way to help reduce wasted energy and lower monthly bills. Everything can be controlled using the External Electronic Interface.
3. Whirlpool Centralpark Refrigerator
During CES 2008, Whirlpool unveiled their concept for an intelligent refrigerator that they believe will help unclutter consumers' kitchens and maximize efficiency.
The Whirlpool Centralpark Refrigerator has a plug and play platform for consumer electronics that clears countertops and clutter from the front of the fridge. With the centralpark connection, homeowners will have an interchangeable connection point where they can connect their cellphone or photo frame. Homeowners can also connect iPods or digital music players, for music on demand while they are busy in the kitchen.
Beyond photos and music, there are several other add-ons available such as the Cozi Family Organizational Software that can help families manage schedules and tasks, as well as the Quartet Qnote Message Center by Acco Brands that offers a superior dry-erase writing surface that's completely customizable.
4. Multimedia Hoods
The Imago+ Multimedia Hood from Faber worries less about energy efficiency and more about added convenience and entertainment. This steel/glass kitchen hood houses a 19-inch LCD TV with a 1,440 x 900 resolution and 850:1 contrast ratio. This TV has an analog and digital tuner, on board recipes, Internet, video call, multimedia player, webcam and USB input.
ILVE has their own version of a multimedia hood called VELA. It only comes with a 10-inch LCD TV built in, but also has a remote control and a RCA input/output for hooking up a cable box, DVD player, or game console.
With these multimedia hoods, homeowners can watch their favorite cooking show, receive a video call and keep an eye on their children in the next room.
5. The Ultimate Kitchen Combo
Rather than focusing on improving just one home appliance, John Lewis has decided to tackle them all and create the Ultimate Kitchen Combo. This combo is a 4-in-1 system that includes a wall mounted coffee machine, an electric oven, a steam oven, and a 19-inch LCD TV.
This kitchen-in-1 provides all the basic cooking necessities and surprisingly, looks incredibly sleek and uncluttered.
6. Demy Recipe Reader
For the homeowner who can't afford purchasing new major appliances, the Demy Recipe Reader by Key Ingredient can still add intelligence to your kitchen. This 7-inch display touchscreen has storage for up to 2,500 recipes, three kitchen timers, a measurement conversion calculator, an ingredient substitution dictionary and USB connectivity for syncing with a PC. It's also guaranteed 'kitchen-safe'.
7. Verizon Hub Home Phone
Verizon Wireless has just launched an intelligent home phone called the Verizon Hub that's designed to replace old fashioned home phones with a sophisticated home communication system that merges landline and wireless connectivity.
The Hub comes with a 7-inch touchscreen display that has the ability to sync your calendar, traffic, weather reports, and of course, contacts. The Hub allows for texting from your home phone for those text addicts and can even order pizza, provide maps and directions, and preview trailers for upcoming movies. The Hub uses your existing broadband connection and will work with current Verizon wireless subscribers.
8. Smart Meters
New to the US market, Smart Meters are an advanced electrical meter that will offer homeowners an entirely new way of managing their electricity use and monthly bills. Smart Meters will record the total household electricity consumption hour by hour and then send this information real-time to the utility company.
By doing this, Smart Meters will provide an economical way of measuring this information and allow price setting agencies to introduce new prices for consumption based on time of day or season. By billing customers based on how much electricity they use at certain times of day, it will force them to adjust consumption habits and be more responsive to market prices. These meters will also help control the rapid increase of electricity prices and reduce the need to purchase energy from higher priced sources.
Currently California is looking to install 5.3 million Smart Meters between 2009 and 2012. It's also hoped that this same process can be applied to natural gas and water consumption.
9. Smart Thermostats
Smart Thermostats are interactive 'communicating' thermostats that can 'talk' with each other and help reduce unnecessary use of the home's heating and cooling systems. They can manage and adjust the home's energy consumption based on current prices and necessity.
Smart Thermostats can even be programmed to allow homeowners to create heating and cooling schedules based on time of day or if the home is vacant or occupied. If you have zoned heating and cooling, these thermostats can be programmed to heat certain areas of the home at certain times.
By programming a Smart Thermostat to work around your schedule, homeowners can save as much as 30 percent annually. These thermostats also use the home's heating and cooling more efficiently which has a positive impact on the environment and on the homeowner's monthly energy bills. EcoBee's Smart Thermostat promises to pay for itself in energy cost savings by the first year and a half of use.
10. Smart Home Lighting
In the US, home lighting accounts for 20% of all electricity consumed and 50% of that is wasted on inefficient light sources, such as unoccupied rooms. By using Smart Home Lighting, homeowners can use indoor and outdoor lighting more efficiently which will help conserve energy and save them money.
One of the most common and easiest forms of Smart Home Lighting is a dimmer switch or a dimmer module. By programming dimmer switches to turn on and off only when needed, they can potentially save up to 60% more energy and make your bulbs last up to 20 times longer. Homeowners can even add motion sensors that automatically turn off the lights when no one is in the room for increased efficiency.
There are several areas homeowners can use Smart Home products to improve their life, and Smart Appliances are only one part. The home automation market continues to grow every year and new products are being developed that are more affordable, more efficient, and more convenient.
For more information:
Smart Home Is Still Looking For A Market
Televisions are no longer a luxury item like they once were. Now, they are so commonplace that it is not unusual to find several under the same roof. And although today's LCD TVs use less energy than the old CRTs (inch for inch), once you upsize to a larger screen, all of those energy savings are lost. Still there are some simple and easy ways to make your TV just a little bit greener.
Turn the TV off when you aren't watching it
This may seem obvious but many people like the "background noise" that a TV offers. However it is a seriously wasteful practice and turning the TV off is a great way to save some money on your energy bills.
Unplug the TV once it's off
This takes the first suggestion one step further to save even more energy in your home. Most people think that once the TV is off it is not using any energy, however this is not true, as televisions continue to drain small amounts of energy even when they are turned off.
Don't sleep with the TV on
Lots of people like to fall asleep to the lulling sounds of their favorite late-night infomercial. However, not only does this waste energy, it's also not very good for you. Scientists have determined that gadgets in bedrooms such as computers and TVs are fuelling poor quality "junk sleep".
Turn down the brightness on your TV
Most TVs are much brighter than they need to be. Some TVs even have a home setting and a store (or showroom) setting. Make sure your TV is set to the home setting and this will reduce your TV's energy usage. If your TV does not have these settings, turn down your brightness and possibly your contrast to reduce your TV's energy consumption.
To test your TV energy consumption knowledge, take this fun quiz by the Sierra Club.
There are tons of great decorating tips for homeowners on how to express themselves through paint, wall treatments, flooring, and art. When a person owns a home, it is literally their canvas in which they can reveal their personality.
However, there are many of those who have their self-expression stifled by the fact they are renting an apartment. There are very few landlords willing to let their tenants paint the walls blood-orange red and a lot of the time, renters aren't even allowed to hang anything on the walls.
So for those who haven't entered the home-owning stage of their lives, there are ways to make your apartment feel like a home while still keeping your landlord happy.
If your landlord isn't willing to let you paint the walls, the next best thing are wall decals. They come in various styles and colors from sophisticated to silly and are a great way to spruce up those boring off-white walls. Since they peel off easily, with no damage left behind, you can add your own unique touch to your apartment that can be removed when you move out.
If you have some art or photos that you really want to show off, there are lots of products on the market that let you hang pictures on the wall without leaving any holes or marks behind. Just check out your local hardware store for some hanging solutions.
Since redoing your apartment floor is probably not a possibility and is an expensive way to decorate a space you're not going to live in forever, opt for a luxurious and vibrant rug to hide that ugly shag carpet.
If screwing in a curtain rod is out of the question, you can still add some privacy and color to your windows with temporary blinds, like RediShade. These shades are easy to install, require no drills or screws and can be customized to suit your needs. The best part is you can remove them when you move out and take them with you.
Finally, the absolute best way to add your own personal touch to your apartment is to accessorize, accessorize, accessorize! Use funky lamps, bold pillows and throws, lush greenery, and anything else you can find that expresses your tastes.
Even if your walls are bare and plain, you can create a look that's trendy and uniquely you by surrounding yourself with decorative accessories.
Concept appliances give us a peek into the future. They are often aesthetically pleasing and offer interesting and unique features; however, it is a rare concept appliance that makes it off of the drawing board and into the showroom. Unrealistic designs, high production costs and lack of consumer demand are often the reason for many ideas to be scrapped.
Yet, here are 14 interesting concept appliances that have made it to the model stage and look so good that we hope they go into development soon.
iBasket
The iBasket is a hamper/washer/dryer combo. The transparent iBasket stores your dirty clothes. Once filled, the automatic wash and dry cycle begins. After it has finished drying, the iBasket will send you an email or text message to let you know it's done.
Why do consumers need the iBasket?
The iBasket saves time and energy as you'll never have to transfer your clothes from the hamper to the washer to the dryer again. Plus, you won't have to worry about your lucky shirt being dirty when you need it for a special occasion.
Features:
Transparent body
Built-in air refresh system that removes the smell of dirty clothes
Wi-Fi enabled to help you monitor it from your PC or laptop
The one drawback to the iBasket is that it is very small. It has a capacity of approximately 3-5 kg which works out to be around 3 t-shirts and 2 trousers.
FlatShare
The FlatShare refrigerator is made up of a single base station and up to 4 stackable modules. Each module is a self-contained unit so no one will need to deal with other roommates' rotting leftovers and failed science projects. The modules are designed with a tall section for bottles, a spot for produce, and a small freezer for frozen items.
Why do consumers need the FlatShare?
Living with roommates can be fun and exciting until it comes time to clean the fridge. The FlatShare avoids potential conflicts by keeping each person's food and mess separate.
Features:
Customizable color skins
Bottle openers
White board
A handle on the side of the module for easy transport
Coox
Coox is a mobile cooking table that lets users cook and eat wherever they like. Not only does it cook the food, it can also be an extension of the dinner table or desk since the table legs are adjustable. The Coox uses induction technology so once you are done cooking, the surface cools immediately to prevent burns.
Why do consumers need the Coox?
Everyone is on the go these days, looking for new and improved ways to save time. The Coox is perfect for someone who works through lunch or eats at their desk while trying to finish up last minute projects. They can prepare themselves a hot snack or keep their tea warm without having to go to the kitchen.
Features:
Adjustable height
Induction technology
3-burner glass ceramic cooking surface
Cools down immediately after the cooking process has stopped
Warming area on one corner
Portable
E-Bag
The E-Bag is a portable cooler bag that works by using human energy. The E-Bag's cooling system is powered by someone swinging it back and forth as they walk. So, the longer the walk, the cooler the E-Bag gets. The E-Bag's rotating handle charges the battery with the user's arm motion. The cooling system uses so-called Peltier technology, a kind of solid-state heat pump that transfers heat from one side of the device to the other.
Why do consumers need the E-Bag?
This bag is environmentally friendly as it uses no external energy source. It's perfect for picnics, walks in the park or an outing at the beach. And if you're tired, don't worry, kids have energy to burn. Let them carry it for awhile.
Features:
Capacity is approximately 3 liters
3 LED lights indicate beverage coldness
No batteries required
Pure Washer
Pure Washer is a rotating dual sink that acts as a sink and dishwasher. The two sinks are designed so that only one sink is exposed at a time. After the dishes have been put into it; the exposed sink rotates under the counter to expose another sink that is exactly the same as the first. Pure Washer washes the dishes under the counter with degassed water – no detergent required. There is also a cycle for washing fruits and vegetables.
Why do consumers need the Pure Washer?
Pure Washer is perfect for the single person who lives on their own. Freshly soiled dishes are easy to clean so each wash will only take a few minutes. Plus, it is a space saver since there is no need for a sink and dishwasher.
Features:
Dish cycle
Fruit and vegetable cycle
Reduces water consumption
Reduces energy used
No detergent required
Nevale Food Carrier
The Nevale Food Carrier is designed to keep hot foods hot and cold foods cold, all in the same container. It is built with 4 independent layers that have their own independent heating and cooling system. The digital display provides information on the conditions of each layer and can be programmed to reheat a certain layer at specific times.
Why do consumers need the Nevale?
Today's busy lifestyle makes it hard to eat healthy, home-cooked meals. The Nevale lets you carry a wholesome hot or cold lunch with you wherever you go. It can even be programmed to re-heat your main course for you while still keeping your dessert chilly.
Features:
Can hold up to 4 different types of hot and/or cold food
Programmable digital control screen
Each layer operates independently of the others
Uses a plug or rechargeable battery
Vacuum storage system keeps food safe from bacteria
Organic Cook
The Organic Cook is a compact, table-top appliance that can grill, boil or fry. It uses high-efficiency radiant energy that sends high frequency electromagnetic waves to cook while the vacuum system ensures that the food retains its flavor. This technology means that your food is ready in a fraction of the time required for traditional cooking.
Why do consumers need the Organic Cook?
The Organic Cook offers healthy oil-free frying, grilling and boiling, all in one portable appliance. The food is cooked in a fraction of the time and retains all of its natural flavors, plus it's easy to use.
Features:
Internal cooking pad offers flexible cooking options – grill, boil or fry
Infrared technology and vacuum cooking
Intuitive touch sensitive cooking selector
Prepares food in a fraction of the time
Portable
VESSTO

The VESSTO portable stove is an environmentally friendly appliance that uses an advanced version of the Stirling Engine to power itself. Once the small battery gets the VESSTO at a high enough temperature, the Stirling engine can run by itself by using heat from the stove to expand and contract small quantities of gas inside. The aluminum base plate protects any surface it is placed on and it is also a key component of the Stirling engine as it helps to disperse the heat and reuse it.
Why do consumers need the VESSTO?
The VESSTO stove is the perfect way to reduce energy consumption in your home. The simple control panel makes it easy to use and it even has a sleep function that automatically switches off the stove after a specific amount of time. It is compact and lightweight enough to take anywhere, including outdoors.
Features:
Renewable energy power source
Extremely quiet
Easy to read control panel can display recipes, notes or other downloadable cooking information
Sleep function
Ceramic coating for easy cleaning
Portable
Aluminum base plate
Offered in red, yellow, blue and black
Go Fresh Fridge
The Go Fresh Fridge is made up of a main frame that houses 12 removable, temperature-controlled compartments. The food is identified by scanning a picture of it and then the compartment automatically sets the optimal temperature for that type of food. Once the compartment reaches the correct temperature, the cold air inlet closes to save on energy consumption.
Why do consumers need the Go Fresh Fridge?
The Go Fresh Fridge saves energy and increases the lifespan of your food (which in turn should reduce food waste) and this is good for the environment. In addition, it is so cool looking that you will be the envy of all your friends (if not, then at least it is a great conversation piece).
Features:
Energy efficient
Removable, insulated compartments
Increases the lifespan of your food since it is stored at optimal temperatures
Food odors cannot seep into other compartments
Rockpool Waterless Dishwasher
The Rockpool Waterless Dishwasher uses no water or chemicals; instead it uses super critical carbon dioxide in a closed loop system. The carbon dioxide is pressurized into a liquid with excellent grease and oil fighting properties. The carbon dioxide then combines with a small amount of environmentally friendly detergent to get the dishes clean. Once the washing cycle is finished, the carbon dioxide and dirt are separated so that the carbon dioxide can be used again.
Why do consumers need the Rockpool Dishwasher?
The Rockpool dishwasher takes an existing technology and puts it to good use in one of the most used appliances in the home. The closed loop system means that the carbon dioxide gets used over and over again while the dishwasher never uses a drop of water.
Features:
Closed loop system means that the carbon dioxide gets used again and again
Very quiet
Simple user interface
NFridge
The NFridge has a modular design composed of small, stackable refrigeration cubes. Each piece is self-contained and works independently of the others. It uses magnetic refrigeration that produces a constant cold, faster than conventional refrigerators.
Why do consumers need the NFridge?
Not only does the NFridge use an earth-friendly cooling system, but the cold air is not released from the entire fridge when you remove an item. The modular design is perfect for people with large or small families. You can purchase the number of cubes you need and you don't need to cool any cubes you aren't using.
Features:
Space saving design
See-though modular compartments
Soft touch operating digital membrane
Magnetic refrigeration
Resistant to dust and water
Available in a variety of colors
Fog Shower
The Fog Shower is a showerhead that uses approximately 2 liters of water for a 5 minute shower. It does this by creating a fog or vapor flow of microscopic water droplets. The water is heated into water vapor which is then directed onto the person showering. An intelligent sensor sends the water in different directions based on the person's movements.
Why do consumers need the Fog Shower?
The Fog Shower is a simple and easy way to reduce your water consumption by 18 liters/day which adds up to over 6500 liters/year. And since there is less water to heat up, you will reduce your energy consumption too.
Features:
Reduces water usage
Reduces energy consumption
Intelligent sensor
Agbot
The Agbot is a solar-powered robot that can fertilize your lawn, plant seeds and guard your house at night. Its built-in GPS plots out the lay of the land in order to fulfill these tasks. In fact, its security system is so advanced that it will take a picture of an intruder and send it to you via email all before the intruder even knows he's been spotted.
Why do consumers need the Agbot?
The security system alone is a great reason to get an Agbot. Its motion detector, night-vision camera and alarm system will make any intruder think twice before breaking into your home. And if you require lawn maintenance, the Agbot can take care of that for you too.
Features:
Takes 40 seconds per planting
The fertilizer system is designed to avoid inconsistent dispersal that causes lawn burn
Solar powered
Speed as fast as 6 miles/hour
Night vision camera on a 360 degree swivel
High-frequency alarm system
Advanced motion detector
Artificial intelligence
Built-in GPS
Bluetooth
The Agbot still needs some improvements since its battery only lasts for 4 hours. However the programmers are continuing to make improvements and expect the Agbot to run longer in the near future. They also have plans to expand its functionality and make it customizable for the consumer's individual needs.
Bra Dryer
The Bra Dryer is a unique appliance that has the sole purpose of drying bras. Bras are made of wiring, fabric and padding that can be damaged using conventional dryers. The Bra Dryer's patent-pending design preserves the bras shape while using a gentle infrared heat source that evaporates moisture from the bra fabric while silent fans inside the appliance remove the moisture.
Why do consumers need the bra dryer?
Bras can be very expensive and need special care. Therefore they need a special dryer to keep them from getting damaged by conventional dryers. Air drying takes far too long and blow drying your bra is inconvenient, time consuming and never does a really great job.
Features:
Comes in a variety of cup and chest sizes to fit every woman's needs
Can be used with all types of bras
Available in black and white
Plans are in place to start producing the bra dryer in 2010. It will also be available in a modular variation, thus letting you dry multiple bras at the same time.
If you are looking for a mobile home or trailer, then have we got something totally different for you. This little beauty folds up nice and compact for transport but is plenty roomy once you open it up.
The unique design of the trailer means that it can fan out to a 252° radius creating ample room for a bathroom, kitchen, living room, bedroom and even an office. The mobile walls and floors are on rails so that they can slide open easily. And if you aren't into open-air camping, there is a sliding screen that covers the house to keep the elements outside.
Designers: Stephanie Bellanger, Amaury Watine, François Gustin & David Dethoor
Via: Yanko Design
It's simple, it's quick, and it's the perfect compliment to a bacon and eggs breakfast. That's right, I'm talking about toast. With just the push of a button and a few minutes of your time, you can transform regular, old bread into golden, toasted goodness.
Look inside any kitchen and you're bound to find a traditional toaster sitting on the counter, but just as major appliances evolve over time, the toaster has had a few updates too.
We've talked about some awesome toaster combinations before, but here are two unique toasters that will take your breakfast to the next level.
The VHS Toaster
This geeked-out VHS Toaster is certainly one of a kind and adds an old school touch to your toast. Insert your preferred choice of white or whole wheat bread, push play and in just a few short minutes, your VHS toast pops out the cassette slot.
While you can't buy this baby in the store, a toast-loving mastermind has offered up instructions on how to make your own.
The Portable Toaster
The Portable Toaster
is more practical but equally as cool. This device is hand held, made of reinforced ceramic and is shaped much like a cake knife. By using CarboNano technology, the ceramic knife is capable of generating enough heat to toast your bread, in about the same time it would take a conventional toaster.
The butterfly design lets you know how toasted your bread will be so you'll never have to worry about burnt toast again. The Portable Toaster does need to be charged in between uses but it's perfect for work, camping, or anyone who just really loves toast.
This toaster should be available sometime in 2009.