Eco-friendly products are becoming mainstream as consumers demand greener versions of everyday items. Manufacturers have finally begun to meet the challenge as more and more eco-friendly products hit the marketplace. And these are not your grandmother's "green" products that used to be back-breaking and labor intensive. These are cutting-edge products that combine environmental concern and modern day convenience.
The Eco Toaster cooks your toast quicker and with 34% less electricity than conventional toasters. The innovative, auto-close lid keeps the heat in, which makes your toast cook faster. The toaster also has a variable bread width function which means that you don't have to give up versatility to go green.
Don't waste energy boiling water that you are not planning to use. The ECO Kettle is composed of 2 separate 8-cup chambers. The first reservoir is a holding chamber which can release anywhere from 1 cup to 8 cups of water into the boiling chamber. This means that you will only boil the exact amount of water you need. The Eco Kettle uses over 30% less energy than regular kettles and could potentially save 50kWh of electricity each year.
Most espresso machines are designed to be left on for long periods of time, thus using lots of electricity. The Presso Espresso Coffee Maker only uses enough energy to boil one cup of water.
The Presso works by filling the steel filter with coffee, attaching the filter to the Presso and pouring boiling water into the cylinder on top of the machine. The water is then forced through the coffee at a high enough pressure to produce café-style coffee within seconds.
The water-powered clock uses absolutely no electricity or batteries. Instead it runs on water or any type of electrolytic fluid, e.g. soda or coffee. Once the reservoir has been filled with liquid, the numbers appear on the clock like magic. What really happens is the internal converter extracts electrons from the fluid which provides a stream of electrical current that powers the clock.
The only maintenance required is to change the water once in a while.
The Eco Hair Dryer uses half of the energy of typical 2000W hair dryers. In fact, if you normally use your hair dryer for 10 minutes a day you will save enough energy to make 7 cups of tea or 11 pieces of toast each day.
The Eco-Heater is designed to be a low-cost heating alternative to traditional space heaters. It uses convection technology to heat an entire room while only using approximately the same amount of electricity as four 100 watt light bulbs.
The eco-heater mounts on your wall, can be painted to match your décor and can be left on for long periods of time without worry.
The Ecolectric Slow Cooker uses up to 44% less energy than competing slow cookers and 66% less energy then a full-size conventional oven. The insulated lid is the key component of the slow cookers low energy usage since it keeps the heat inside the cooker providing more efficient performance.
The Enviro Vac uses 30% less energy and picks up 20% more dirt than competitive vacuums. Its super efficient motor was designed to work as well as or better than competitive cleaners and only use 800 Watts of electricity compared to the norm of 1600+ Watts.
Make your own delicious ice cream or sorbet in 20 minutes with no ice, salt or electricity required. First freeze the Chillfast® cylinder overnight, then add your ingredients and turn the handle. The handle doesn't even call for constant motion; an occasional turn is all that is needed.
The Solar Mosquito Guard is a pocket-size, rechargeable personal mosquito repellant. It works by emitting a high frequency sound wave that repels pregnant female mosquitoes (which are usually the ones that bite). This means that you no longer need to purchase DEET-filled products which are harmful to you and the environment.
The portable, 6-liter Eco Mini Fridge is energy efficient and can be powered by your car adapter. It consumes an average of 33 Watts of electricity and uses no refrigerant which means that it is completely recyclable at the end of its lifespan. It also converts from a mini fridge to a portable oven with the flick of a switch. And the oven is capable of heating food to 65 degrees Celsius.
The toilet paper roll is the unsung hero of the bathroom. It stoically does its job day after day without any sign of recognition. Firmly keeping the toilet paper in place and making sure it is easily accessible when you need it the most. And then once the toilet paper is gone the lowly toilet paper roll is usually thrown away and forgotten.
But some creative artisans have decided to give the toilet paper roll a new life. The creations range from basic kids crafts to works of art that will surprise and delight you.
Recently, I did a post about futuristic furniture that looked like they were stolen straight from The Jetsons, but the real future of furniture is much more than just sleeping pods and colored LEDs.
Furniture of the future will be less about trendy designs and luxury and will focus more on efficiency, functionality and being environmentally conscious. A lot of these pieces are still in the concept stage and are probably not available at your local IKEA. However, it won't be long before these cutting-edge products are in homes across the country.
Flexible Furniture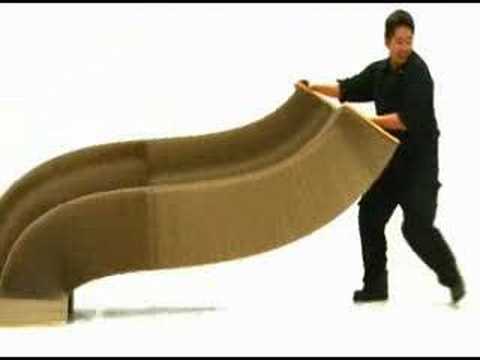 Flexible furniture is by far one of the most unique and useful furniture concepts I've seen. The FlexibleLove is experimental furniture that was designed to be durable and made from low-cost, recycled materials. Although this pieces gets its name from flexible and loveseat, this piece can be extended to hold between 1- 19 people.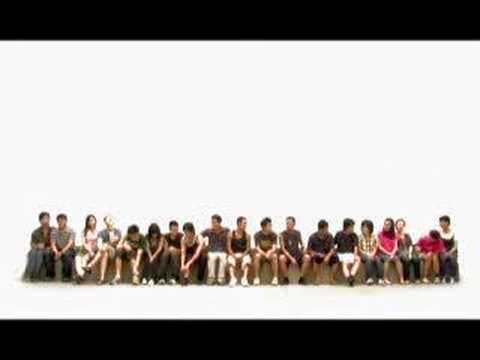 Expanding Furniture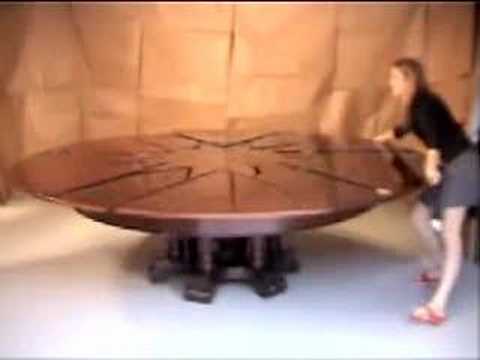 The Schwartz Table in the video above is part of a line by designers dbfletcher called Fletcher Capstan tables and it's a perfect example of taking an old concept and making it better. By simply turning the top, you can transform these small 4 person tables into one that can hold up to 12 people. These tables replace awkward inserts with one smooth, effortless motion.
Here's another take on a table that can be easily converted from a small table to a larger one.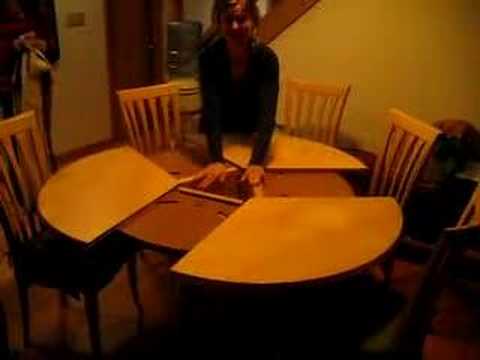 Collapsible Furniture
Designer Nils-Frederking focused on space-saving furniture that could be collapsed when not in use, rather than expanded. His folding table and chair look pretty simple, but they quickly show their complexity when he folds and unfolds them. Granted, this isn't the first folding chair to hit the market, but it's one of the best looking.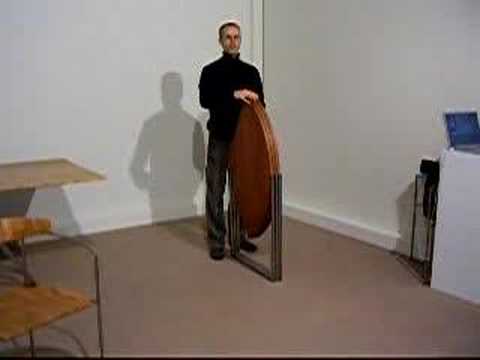 Moving Furniture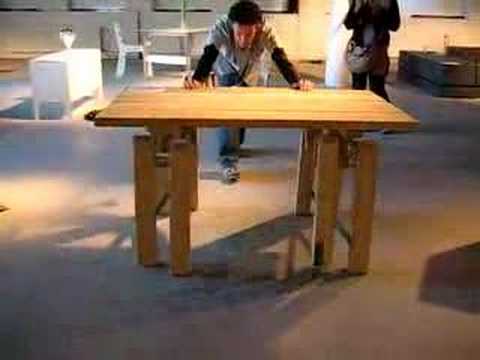 Even if you think its kind of creepy, you can't deny how incredibly cool and useful this table really is. Forget scratching the floors and straining your back when your table needs to move. Simply give it a push and the table literally walks itself across the floor. It was showcased at Dutch Design Week and I can't wait for this concept to be applied to every piece of furniture in the house.
Bonus
It's not technically considered a piece of furniture but I couldn't resist throwing in this flexible ceiling light.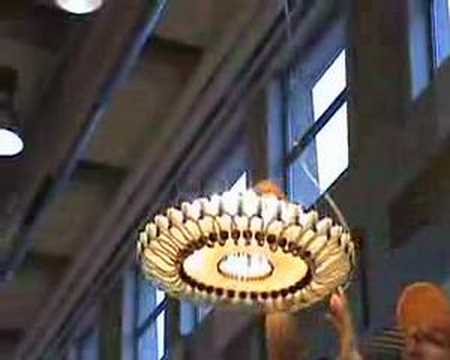 Unfortunately, I couldn't find any more information on it other than that it was showcased at the Dutch Design Week, but I hope this idea didn't go down the drain. Not only does it have a unique and even stylish look, but I just love the idea of being able to concentrate your lighting by collapsing and expanding it.
It's time to rethink the way we use our consumable products. We can't give up our toothpaste and soap but what if we could stretch them out a bit more and make them last longer?
The key to finding the optimal amount of any product is to experiment. Get out of your old habits and start being aware of what you are doing. Once you achieve usage awareness it will be easier to determine the perfect amount of product. Start by scaling down what you are currently using. Do it slowly, over several days, until the product seems to lose its effectiveness. Once you hit that point, revert back to the amount used in your previous try and you have the sweet spot.
It may not seem worth the effort at first but using less really doesn't take much effort at all, just a little consideration. Here are 8 products to get you started and once you've changed your thought process about them, see what else you can use less of in your home.
Toothpaste
Did you know that most people use much more toothpaste than necessary on their toothbrush? A pea size amount is really all you need and does just as good of a job as twice the amount.
Soap
If you use a soap pump, one pump often gives you more soap than you actually need to wash your hands. A tightly wound rubber band around the base of the pump will prevent the pump from being depressed all of the way but should still give you plenty of soap to get your hands nice and clean.
Shampoo
Shampoos come in squeeze bottles which mean that it is super simple to squeeze out more than you need. This is especially true if you have teenagers or children in your home.
One way to start making sure everyone uses only as much as they need is to start pouring the shampoo into pump-type dispensers. One pump is lots for short hair and you'll cut down on shampoo waste. Plus, if you are going to start pouring your shampoo into pump dispensers then you can start buying your shampoo in bulk and save even more money there.
Razor Blades
Drying your razor blades after each use will extend their life, sometimes making them last months instead of days. It is the water droplets that do most of the damage to the blades, causing them to rust and oxidize. Simply blotting your blades on a towel after each use will help to get rid of the water that shortens the life of your blade.
Shaving Cream
A great way for men to save on shaving cream is to grow a beard and give up shaving. If this isn't an option, then how about trying something completely different? A little bit of inexpensive hair conditioner can be used in place of shaving cream and doesn't dry out your skin like soap does.
Dishwasher Detergent
If you check your dishwashers' manual you will see that the amount of detergent you need depends on your water's hardness level. Often, the softer your water, the less detergent you need. To check your water's hardness just give your local water company a call and they can give you that information. Then check your manual and see how much detergent you really need.
Laundry Detergent
Most scoops that come with your laundry detergent are based on the maximum amount of detergent needed for the worst laundry circumstances. However, most times our laundry does not have heavy stains and sometimes we run smaller loads than others. These things affect the amount of detergent you need and if you do a little experimentation you may determine that you are using too much.
Dryer Sheets
One way to double the amount of dryer sheets you have is to rip them in half before throwing them in the dryer. You won't notice any difference in your clothes and you now have 2 dryer sheets for the price of 1. Feel free to experiment with this, try ripping them in thirds and check the effectiveness, or don't bother to rip them but reuse them over and over again until they no longer do their job, or just get rid of them altogether.
These simple tips will sometimes double and triple the amount of usage you can get out of a product. So don't be afraid to experiment with other consumable products, I'm sure it will make a difference in your grocery bill.
If you are looking for a fun piece of furniture to add to your living room, we have just the thing for you.
"Stop Playing With Yourself" is a combination puzzle and multi-purpose piece of furniture created by Australian designers Schamburg + Alvisse. It can be a sofa, chair, bed or just a star sculpture in your room. As a matter of fact, you may spend more time taking it apart and putting it back together than actually sitting or laying on it.
Gene provides so many reasons for doing repairs yourself. You never know what you are going to get from the local handyman.
A MyBadPad original feature. Read more
When decorating your home, there are tons of themes, concepts, colors and designs to choose from. Your home can be sleek and modern with stark colors and smooth shapes, have a cottage country feel with flowers, pastels and antique woods, or use bold colors and vintage pieces to create a retro retreat.
But if you'd rather look to the future instead of the past, and being simply 'current' isn't cutting-edge enough for you, opt for these futuristic furniture pieces that will make your home out-of-this-world.
The Abisko washbasin from Eumar is more than a bathroom sink. It is stunning cast mineral marble fashioned to replicate the fresh mountain springs and waterfalls from the Swedish national park, Abisko. The flowing design is meant to remind us that water is one of nature's precious resources and it is not in our best interest to let it pool in a big tub but to let it run free and to capture only what we need.
The Abisko washbasin dispenses with traditional drain pipes and other details. The fluid design incorporates very few components so that the water can spill freely down the length of the sink into the open grill to simulate the flow of water in nature.
Via: Trendir.com
I love Star Wars as much as everyone else but normally the traditional, commercial merchandise doesn't interest me. However, when I saw these precious, handmade Kokeshi dolls I knew I had to have them.
Each doll is hand painted and signed by the artist, Mulac, which makes them a great collectible. Han Solo and Princess Leia have never looked so adorable.
A Star Wars fan custom ordered this cool little Boba Fett, so take the force into your own hands and request something awesome, like an ewok or wookie.
Via: Fanboy.com
As world leaders pledge to reduce carbon emissions and the importance of protecting the environment continues to grow globally, individuals and businesses are searching for ways to decrease their impact on the environment. It's no surprise then that professional sports leagues are beginning to develop and encourage ways in which they can become more environmentally friendly, too.
This comes as a great relief to environmental critics, especially considering one baseball game can produce 760,000 bottles and cans that are discarded in the trash rather than recycled, one football stadium can produce about 100,750 tons of carbon dioxide per game, or that NASCAR's total fuel consumption for an entire season has been estimated at 2 million U.S. gallons.
The decision for national sports teams to promote green initiatives is an important step. Not only will it positively effect the environment while the teams are on the field, but it also has the potential to influence their millions of fans to be green off the field.
1.    Major League Baseball
With 30 teams, 162 games per season, and on average, 80 million spectators, Major League Baseball (MLB) certainly provides its fair share of the negative environmental impact caused by professional sports.
However, due to initiatives over the past few years, the MLB is quickly becoming one of the greenest professional sports leagues. Last year, the MLB partnered with the National Resource Defense Council (NRDC) to create a Team Greening Program.
This was the first league-wide environmental protection program and aims to organize and support environmentally sensitive practices. The Team Greening Program plans to:
Create club eco-committees.
Provide information on how to offset carbon emissions from the team and fan transportation, as well as, facts and resources to assist each team in assessing their environmental impact and how to reduce it.
Create an official environmental policy.
Add environmental policies and language to contracts.
Reduce the use of paper in offices and switch to recycled paper products.
Work towards renewable energy use.
Encourage fans to make environmental changes in their own homes.
The MLB has also made significant changes to their baseball parks across the country. They now have recycling bins for plastic cups and bottles and the vending machines are being made more energy-efficient. Solar panels have been installed to provide some of the energy used for games and even the grounds crew is switching to more environmentally friendly cleaners.
Not only are changes being made for the league as a whole, but individual teams are taking the green movement into their own hands. The Atlanta Braves have built the first ballpark stadium that meets standards created by the U.S. Green Building Council, the Pittsburgh Pirates are using corn-based cups, soy-based ink, and recycled toilet paper, the Boston Red Sox have installed solar panels and the Seattle Mariners recycle food waste, paper and plastic.
2.    National Football League
The MLB is certainly tackling the environment dilemma from all angles, but the National Football League (NFL) is also doing their fair share to make football a green sport.
Although the NFL has had an environmental program since 1992, it wasn't until recently the league has begun making key improvements, particularly when it comes to the Super Bowl. The program has been working to:
Improve solid waste management at all NFL facilities.
Develop environmental guidelines for all contractors and vendors.
Donate food and leftover building material, office supplies, and sports equipment.
Make any Super Bowl event carbon neutral.
For the 2008 Super Bowl, the NFL committed to planting 2,700 trees to help offset gas-emissions and the Tampa Electric Company provided renewable energy for 100% of the electricity needs for the game.
At the team level, the Philadelphia Eagles have taken the greatest responsibility for the environment and developed ways to decrease their environmental footprint.
In 2007, the Eagles developed an ambitious program that rewarded all Eagle employees who signed up for Wind Energy. The employees are then reimbursed by the team so there is no out of pocket cost. In 2008, the Eagles purchased 14 million kilowatts of wind power to help the team run on 100% renewable energy at both their Lincoln Financial Field and their training facilities.
As a result of their initiatives, the Eagles have managed to switch 25% of the team's energy use to renewable sources, avoided 65 tons of greenhouse emission and 2 billion BTUs of dirty energy generation, and also saved 100,000 trees.
3.    National Hockey League
Although hockey is sometimes considered a cleaner sport than others due to shorter schedules and smaller arenas, there is a still a huge footprint left behind from this sport.
In 2007, the National Hockey League (NHL) partnered with The GreenLife Organization to develop solutions to help the league go green. The program focuses on:
Creating green initiatives.
Identifying areas that need improvement.
Offsetting carbon emissions.
Switching to renewable energy.
Generating public awareness and promote green living outside the sport.
Like the MLB, the NHL has also been working with the NRDC to provide advice and resources to reduce each NHL club's impact. The league has also had much success with the NHLPA Carbon Neutral program that encourages players to take action to decrease their footprint on and off the ice.
The program was developed by the National Hockey League Players Association (NHLPA) and the David Suzuki Foundation. So far, the program has helped offset more than 4,200 tonnes of carbon emissions this season and 420 NHLPA members have signed on for year two.
4.    National Basketball Association
The National Basketball Association has also teamed up with the NRDC to develop programs and events that will help generate awareness and funding to protect the environment.
While the NBA's partnership with NRDC isn't as extensive as the MLB or NHL, they are still taking positive steps toward preserving the environment.
The inaugural NBA Green Week, which was held between April 2 and April 10 2009, is a week-long event that engages all 30 teams in auctions, community service programs, and public service announcements. They are also working to create a new micro-website, www.nba.com/green that will feature green tips for fans.
Noted environmentalist and actor, Robert Redford was involved, as well as Addidas, who pledged to outfit players with 100% organic shirts. The NBA store will also host Recycling Dreams, a footwear drive to collect gently used athletic shoes.
Beyond public awareness events, the NBA is working with NRDC to offset energy usage and waste in offices and arenas. Green modifications that are currently underway include:
Installing solar panels and wind-powered energy sources.
Installing water-saving fixtures.
Using organic food in concessions.
Encouraging public transportation.
Creating a recycling program.
5.    NASCAR
Understandably, a sport that involves very fast cars with low miles per gallon, circling a track 500 times is a hard sport to make environmentally friendly.
However, where others may choose the easy road, NASCAR has decided to take the green road and make an effort to reduce their negative impact.
In 2007, NASCAR partnered with the Environmental Protection Agency and announced that they would switch to unleaded racing fuel by the start of the 2008 season. NASCAR's environmental services provider, Safety-Kleen has also begun collecting the 240 million gallons of used motor oil to re-refine and reuse. Beyond the obvious benefit of reusing the oil rather than throwing it out, re-refined oil also uses 85 percent less energy than making new oil.
NASCAR also participates in National Car Care Month where they help promote better car maintenance, which in turn increases vehicle performance and reduces fuel consumption.
Even some speedways are getting involved to help make a difference. The Michigan International Speedway preserves 200 acres of wetlands and is looking to use wind and solar energy within the next 10-12 months.
While many argue these steps don't entirely negate the negative impact professional sports can have on the environment, the initiatives do make a difference. If you consider how many professional sports teams there are, simply making even the smallest step can have a massive affect not only on the environment, but also on the millions of fans who watch them.