The current economy is pushing entrepreneurs to become more creative. Some are even trying to take advantage of the continued increase in foreclosures. However, not all rentals are created equal.
I bet the ad reads "Spacious, lots of green grass, quiet neighborhood."
Thanks to our friends over at Burbia.com for sharing this brand new rental that just came on the market.
Everyone knows that a man's home is supposed to be his castle, his refuge and his sanctuary from the rest of the world. Unfortunately this was not the case for 93-year-old Marvin Schur of Bay City Michigan. Mr. Schur was found frozen to death in his home on January 17, 2009; four days after a municipal power company limited his electricity usage.
Mr. Schur was in arrears to the power company for over $1000 so the power company installed a "limiter" on Mr. Schur's house. A "limiter" restricts the amount of power that gets to the home and blows out like a fuse if consumption is too high. The power to the home can be restored when the device is reset. However, no one personally explained to Mr. Schur how the limiter worked. Therefore once the power went out, it never got turned back on.
Bay City officials have stated that limiters will be removed from all homes while the city's
electricity policy is being reviewed. Bay City Mayor, Charles Brunner, wants to make sure nothing like this happens again. Mr. Bruner said that the city has never had a problem with the use of limiters before and the power company only uses them after multiple notices are mailed out to residents of the home.
While I am glad that the power company policy is being reviewed, there is another serious matter here that is not being discussed. Many seniors living on their own have no support system in place. It is not my desire to infringe on senior's rights, however, if Mr. Schur had someone visiting him on a daily basis, the power outage would have been reported within 24 hours and his death by hypothermia could have been prevented.
Sources:
http://abcnews.go.com/TheLaw/story?id=6740934&page=1
http://www.msnbc.msn.com/id/28858971/
An available water supply is something that most of us take for granted. Yet, water ebbs and flows with the seasons. As the earth warms under the summer sun, certain areas experience droughts and restricted water usage. This proves that water is not really limitless but a finite commodity.
Exhausting our fresh water supply is no longer a far off worry but a real possibility for our children's future. However, there are simple things that we can do now to conserve our water and help keep our planet greener:
Turn off the water when you aren't using it. Running water while you brush your teeth or shave is literally letting your water go down the drain.
Keep cold drinking water in the fridge. Running the tap to let your water get cold is a terrible use of fresh drinking water.
Take shorter showers. An average 5 minute shower uses between 15 - 25 gallons . A 2 ½ minute shower would cut that number in half. If you prefer baths, then fill the bathtub half as full as you normally would.
Wash vegetables in a small bowl of water instead of under running water. This goes the same for your car. A bucket and a sponge will save gallons of water compared to a running hose.
Only run the washing machine and dishwasher when you have full loads.
Replace your current showerhead with a low-flow one to reduce your water consumption by 50 to 70%. Using less hot water also reduces the amount of energy needed to heat up the water.
Buy a low-flow toilet. Regular toilets use about 3.5 gallons of water per flush while low-flow models use a maximum of 1.6 gallons of water.
Fix leaking faucets and toilets right away. Even small drips can add up to thousands of gallons of water wasted.
Don't flush garbage down the toilet. Proper disposal is better for your toilet and saves water.
Collect rainwater. Use this water for your garden and lawn. Or don't water your lawn at all; grass goes "dormant" in extended dry periods and will return to normal after a few good rains.
Your budget is stretched, you're feeling stressed, your to-do list is longer than your arm, AND your boss is driving you crazy. You really NEED a vacation.
Funny thing is, vacations can add to your stress.
There's planning, packing, getting to the airport and dealing with security, or endless driving and potential road-rage; and you haven't even arrived at your destination yet. Add that to the fact that this misery is going to cost you… BIG! The most expensive parts of your vacation are travel expenses and accommodations.
Since you've already paid money to live in your house or apartment then the smartest thing you can do is to stay put, avoid the stress and take a Stay-cation!
Of course you are likely to ask yourself, "if I just stay put then how is it really a vacation?" Well, why don't you think about what a real vacation is. A vacation is about having fun, eating too much, drinking too much, and not dealing with your actual everyday life.
How can you do this while staying at home? Easy! We've broken it down into 3 budget categories. You can choose the one you like or mix and match. It's all up to you since it is your stay-cation.
Don't forget the ground rules.

1.    No chores.
2.    Do not check your work email.
3.    Do not open your mail.
4.    Screen all of your calls so that you only answer the important ones, like party invitations.
These 4 things will take a bit of willpower but are vital to the success of your stay-cation. Once you get past the first day they will get easier to do.
Mid-Range cost:
Now some of these things may seem a little decadent but you are on vacation and are planning on spending a little bit of money so think of all of the money you saved on hotels and flights to exotic locales and indulge a little in other areas.
Hire a maid for the week. There can be great joy in coming back to a clean home after a long day of rabble-rousing. No toys to pick up, no dishes to wash, no beds to make… It sounds like bliss to me.
Eat out every meal. If you were staying at a hotel you would need to eat out at every meal so treat yourself to the same self-indulgence and try out some of the local restaurants that you've never been to before.
Get a babysitter and go out like adults do. At least if you are staying at home you have a baby sitter you can trust close by so you don't have to worry about a stranger looking after your little ones.
Take a cab. If you are going out to have a few drinks with your partner, you don't want to worry about a designated driver. Enjoy yourself without worrying about how you are going to get home.
Explore some of your local attractions. Check with your local Chamber of Commerce or use the Internet to find some of the local treasures you may not have discovered yet. Try typing "Things to do" plus the city or town in your browser and you should find lots of great ideas to get you started.
Low-Cost:
We haven't cut the expenses down to zero on this one but sometimes it is worth spending a few bucks to have a good time.
Hire a maid on the first day of your vacation. She/he may not be able to look after the day-to-day untidiness but it will be nice to start your vacation with a clean bathroom and kitchen.
Eat out one meal a day and make it lunch. Most places have great lunch specials that cost about half of what you would pay for the same meal in the evening. And eating out makes less housework and is fun for a change.
Get a babysitter for at least one night or afternoon. It is a good idea to have adult fun once in awhile. Check out the local café that hosts poetry readings or open-mic night.
Take a bus. You can still go out and enjoy a few drinks with your partner but go early so you can catch happy-hour and then take the bus home.
Check out the local attractions. Most museums and art galleries are pretty low cost and full of things to pique your interest.
No-Cost:
It's important to get out and enjoy life even if your entertainment budget is zero.
Pack a picnic. If you can't afford to go out to a restaurant you can still go out. Get your picnic lunch organized and head to the nearest park or beach. Both locations are either free or low-cost and you can make the day of it.
Trade baby-sitting services with one of your neighbors. Offer your friends free baby-sitting in the future in exchange for them baby-sitting your little ones now.
Take a romantic walk in the park/ beach, go hiking on a trail, stargazing, ice skating, sledding, make a snowman… you get the idea. Just go somewhere and leave the kids at home.
Explore the no-cost local attractions and monuments. Most museums and art galleries have some days marked for free admission and your library is chalk full of free books, magazines and movies for you to borrow.  Libraries also often have story time, special activities, crafts for kids, and even concerts by local musicians.
Finally, if you want to do something completely different (and the weather is nice), take your vacation budget and blow it on a backyard stay-cation: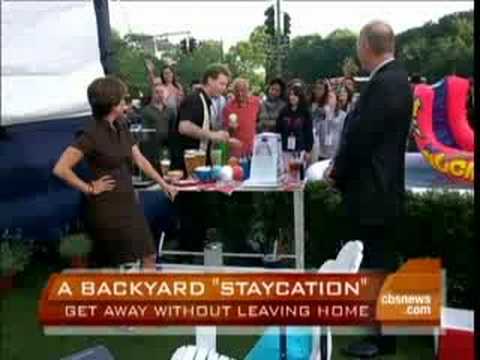 Even if you are stuck at home, it doesn't mean you can't plan a fun and exciting stay-cation. All you need to do is set your budget, think creatively, do some homework and plan your Best. Stay-cation. Ever. Oh, and don't forget to take some great stay-cation photos!
More ideas to make your stay-cation interesting and enjoyable:
Fly a kite
Play croquet
Go fishing, swimming, biking
Bird watching
Geo-caching
Bake cookies together
Do crafts – paint, sculpt, knit, wood-work
Spend a day taking photos
Window Shop
Camp out in your backyard
Go to an open-air concert, parade, farmer's market
Visit a cemetery – cemeteries are full of history
Take a farm tour, winery tour, chocolate factory tour
Organize a scavenger hunt
Have a potluck
Invite friends over for coffee
Have a Family Game Night or Marathon
Volunteer – it sets a good example for your kids and helping others makes you feel good.
You've finally broken down in a moment of weakness and decided to clean your fridge. It's one of those chores that nobody likes to do, but inevitably, no matter who you are, you will finally catch a whiff of month-old spilt milk, dried up tomato sauce and a bad jar of mayonnaise that got lost in the back and decide today is the day.
While you're worrying about the possible illness you could contract from rotten food you didn't even know you had, there's one other thing you should remember that will save you time, money, and a lot of unnecessary frustration.
Repair Don't: Don't clean the glass refrigerator shelves while they are still in the fridge, especially with hot water. This is a sure fire way to break it and spend the rest of the afternoon trying to find replacement parts.
Repair Do: Do remove the shelves from the fridge and let them adjust to room temperature. Once they've warmed up, clean them with warm, soapy water and replace them in your fridge once dry.
This is one of the most common, and unnecessary, repair mishaps many homeowners encounter. Save yourself the extra work and frustration by remembering today's Home Repair Do and Don't.
The Transformers were the ultimate heroes for any kid growing up in the 80's. They were from space, had cool names like Optimus Prime, fought the evil Decepticons and they transformed from sweet looking sports cars to super-sized bad ass fighting machines.
But what if the Transformers weren't Camaros and Porches, but rather washers and dryers? Well, thanks to the folks at The Merrick & Rosso Show, an Australian Comedy show, we can see for ourselves what the Almost Transformers would have looked like.
Let's be honest - real men hate cooking. Don't get me wrong - we like grilling, barbequing and marinating, hell; we don't even mind occasionally boiling a pot of water. But when it comes to aprons, whisks and words like 'béchamel', 'demi-glace' or 'flambé', we want no part of it.
Unfortunately for mankind everywhere, we get hungry. In fact, we get really hungry several times a day. Since a man's got to eat, we've come up with a few creative ways you can cook some grub and still keep your manliness intact. After all, we don't care how it's cooked as long as we can eat it.
1)    Iron Grilled Cheese
Somewhere along the line, we're sure a friend, a girlfriend or your mom gave you an iron. We suggest taking it out of the box, dusting it off and putting it to good use making a classic grilled cheese sandwich. Just make sure the steam setting isn't on.
2)    Torched Leftovers
Still got some Mushu pork from House of Hong leftover in the fridge? Grab the blowtorch, throw it in a non-plastic dish (we can't stress this part enough) and give that take-out a good searing. It's much cooler than using the microwave and who doesn't like a good excuse to play with fire?
3)    Electrofried Hot Dogs
Hot dogs are a staple in any man's home since they're so damn easy to cook. You can boil 'em, fry 'em, grill 'em and for the man who loves a dangerous challenge, you can electrocute 'em, too. All you need are few simple tools like a power cord and wire strippers, and you can enjoy a delicious hot dog and maybe even a 220v shock.
4)    Radiator Eggs
Every man likes eggs in the morning and that goes double if you're hung-over. So when you wake up on a cold morning feeling like a bus hit you, turn up the heat and throw a pan of eggs on the radiator. It's the ultimate in lazy cooking and if the radiator is next to your couch, you don't even have to get your hurting ass up.
5)    Cooking with 500 Horsepower
One of man's most prized possessions is his car. They're reliable, easy to fix and even help pick up the ladies, so it makes sense they can cook our grub too. Whether you're taking a road trip with the guys or just feel like showing off, you can cook an entire steak and potato meal on your car's engine. Dirt and grease won't help the flavor so make sure you have some tin foil on hand.
6)    Caveman Cooking
There is no more sacred or manly method of cooking food then over a roaring, open flame. When the iron is broken and the car's in the shop, get in tune with your ancient cavemen and make a fire pit in your back yard. Grab a lawn chair, open a cold one and you won't even feel like you're cooking when the smell of the outdoors and charred beef hits your nostrils.
Bonus:
No meal is complete without a frothy brew to wash it down so for the ultimate beverage dispensing machine, hook up a keg of beer to your fridge's water dispenser. This gentlemen, is what we like to call a 'culinary masterpiece'.
In a world of high consumer demand and market competition, manufactures are constantly looking for ways to break the mold and create unique products that will appeal to buyers. Unfortunately, many of these mold-breaking creations end up as massive failures on a Most Useless Inventions list. The appliance industry, however, seems to have struck gold with a recent slew of strange appliances that are actually pretty handy. Say goodbye to the noodle hair guards and personal rain savers, and say to hello 10 bizarre but useful appliance combinations.
1.    Microwave Oven & Toaster
It's probably one of the most debated decisions during small appliance purchasing – microwave oven or toaster? Both have their own set of perks and a lot of people just end up buying both, but for a home that's low on counter space or funds, you will ultimately have to decide which is more important. That was until LG decided to take the best from both worlds and develop a combination Microwave Oven & Toaster. Now families around the world can enjoy evenly toasted bagels and perfectly cooked pizza pops at the same time.
2.    Radio & Toaster
Who doesn't like to start the day with a slice of toast and the morning news? Well, thanks to Hammacher Schlemmer, you can now enjoy both AM pleasures with one energy-saving, space-saving appliance, the Radio Toaster. It comes with all the usual bells and whistles of both appliances but it's all packed into one cool looking design. It guarantees perfectly toasted bread every time and even has a removable crumble tray for easy clean up. What more could you ask for?
3.    Coffee & Egg Toastenator
How about an appliance that not only makes your toast, but brews your coffee and fries your egg too? You can thank the always-clever Japanese and their forward thinking for this ultimate three-in-one breakfast making machine. This little space-efficient wonder has a coffee machine on one side, a toaster oven on the other and a mini griddle on the top to help you save time and energy – both in high demand during the morning routine.
4.    In-sink Dishwasher
Another perfect combination for those who don't have a lot of room to spare is the In-Sink Dishwasher from KitchenAid. It's the only one like it on the market and comes with a pretty hefty price tag - $1,800.00 - but for singles or couples living in tight quarters, this could be a practical addition. The racks are removable so you can still use the sink and it comes with a cutting board on top for even more space saving. But unless your hate for washing dishes by hand is worth $1,800, we suggest putting off purchasing one of these until the price drops a bit… or a lot.
5.    Refrigerator & Range
Like light and dark or big and small, there are some things that just can't be mixed together but thanks to Whirlpool, hot and cold are no longer one of those. The Whirlpool Gold Polara is a combination range and refrigerator that will keep your food fresh and cool all day long and then cook it to perfection just in time for supper. It comes with a fully functional cooktop and is ideal for busy families that don't have time to thaw and cook meals.
6.    Refrigerator & Microwave
Options for stacked, space-saving appliances are no longer limited to the washer and dryer. You can now purchase a Summit Refrigerator/Microwave combination to help save room with two home appliance necessities. Simply stacked with the refrigerator on the bottom and microwave on top, this is an exceptionally functional and affordable appliance combination.
7.    Pasta Maker Station
Perfect for chefs or anyone who loves to cook and eat Italian food, the Zanussi Pasta Station is an all-in-one, buffet-style pasta makin' station. It allows you to combine a variety of appliances such as pasta cookers, electric ranges, ovens, a Bain Marie (double boiler), storage cupboards and more into one unit for a professional cooking experience.
8.    Toilet & Washer
Lovingly called the 'Washup', the combo appliance industry has entered a whole new frontier with this toilet-washer combo. After the initial 'Ew' factor wears off, the idea behind this appliance is actually very intelligent. The water used to wash your clothes is reused to flush the toilet. It's sustainable, eco-friendly and because of its stacked design, space saving so it's perfect for apartments or any home looking to 'go green' and save on their water bill.
9.    Tea Maker & Life Line
Give another nod to the innovative Japanese for this combination Tea Maker & Life Line. The weird mix may have you confused but like most Japanese inventions, the idea behind it is pretty smart. It was designed to give peace of mind to those worried about their (tea drinking) elderly parents who live alone by sending an alert via email or cellphone message when the tea maker is being used. It will let you know when it was turned on and how long it has been keeping warm, allowing you to know that your parents are safe and sound.
10.    Dishwasher & Oven/Cooktop
Carad has developed the Frankenstein of all combination appliances - a fully functional three-in-one dishwasher, oven and cooktop for the really space-deficient home. Currently available for purchase, it has a dishwasher with a 27 cm dinner plate capacity on the bottom, an oven in the middle, and a hot plate cooktop on top. Pick up one of these with a refrigerator-microwave combo and your kitchen will be complete!
Living within your means doesn't mean that you have to do without; it just means that you need to look at your money in a different way.
I think of every $1.00 saved as approximately $1.33 earned. Now you are probably wondering 'what is this crazy lady talking about'.
Well, think of it this way. You would have to earn $1.33 at your job to have $1.00 in your pocket (it could be more or less than this depending on your tax bracket but you get the idea). This is because the taxman has to take his share right off the top of your paycheck before you get to see a cent.
If you pay approximately 33% to the taxman then you have to earn more than $1 to actually get $1 to spend. I know this isn't fair but it is life.
The point is that if you save one of the dollars that is already in your pocket, it is really more than earning $1 in the big scheme of things.
So instead of getting a second job to try to earn some extra cash why not just make some minor adjustments in your spending habits. Here are 5 easy ideas to save you money and help you keep some of your hard-earned dollars in your pocket.
1.   Brown bag it to work. I know you've heard this one so many times that you are tired of hearing it but it really does save you money. A cheap lunch out will cost you at least $7 - $10 these days and that is for a sandwich or hamburger and a drink. Is $7 for your lunch really good value for your money? Making your own sandwich and drinking water will save you at least $6 (unless you are making really expensive sandwiches).
2.   Purchase generic brands at the grocery store. Most of them are made by the big brands anyways and this can help you save major money on your food bill.
3.   Use coupons. Clipping coupons may not be your thing but if you find a coupon for $1 off an item that you regularly use, then the 5 minutes it took you to cut out the coupon is definitely worth your time. But keep in mind, using coupons on products you never usually buy is not a great deal if you will be spending money on something you could have done without.
4.   Turn down your thermostat. A sweater and some slippers will keep you warm and cozy during the day and an extra blanket on your bed will keep you snug at night.
5.   Cut out the daily junk food habit. Those daily sodas and bags of chips can add up quickly. Not only are they damaging your pocketbook, they aren't doing much for your waistline either.
After so many years of being stepped on, dropped, lost, found and lost again, the TV remote has finally been given a new look thanks to Logitech.
Recently introduced in Las Vegas, this flashy Harmony 1100 Advanced Universal Remote comes complete with a 3.5 inch QVGA full-color touch screen with customizable buttons so you never have to fumble for the rewind button again. It also received the CES 2009 Design and Engineering Award for Best of Innovations in Home-Entertainment Accessories.
But don't let its fancy design fool you. This remote is designed to simplify the home entertainment experience and comes with the bells and whistles you would expect, including a guided online setup to make programming easy for even the most unsavvy.
You can get your hands on one of these babies next month for $499.99.