Now that April showers have brought May flowers, summer is finally just around the corner.  Unfortunately for us heat-lovers, we've still got some time before we can unpack the short shorts and get out our bathing suits.
If you're having troubles getting rid of the winter blues and think you may not make it until the warm weather finally hits, you can add a touch of summer to your home with these adorable Beach Ball Lamps.
Designed by Toby Sanders, these lamps with their bright blues, reds, pinks, oranges, and yellows will brighten up any room and give you that fuzzy, summer feeling. Made from reused beach balls and non-toxic materials, these lamps not only bring vibrancy to the home, but they're great for the environment, too.
No matter how glum you are about the rainy weather outside, it's impossible not to feel good when lounging under these fun and creative Beach Ball Lamps.
Recently, I did a post about futuristic furniture that looked like they were stolen straight from The Jetsons, but the real future of furniture is much more than just sleeping pods and colored LEDs.
Furniture of the future will be less about trendy designs and luxury and will focus more on efficiency, functionality and being environmentally conscious. A lot of these pieces are still in the concept stage and are probably not available at your local IKEA. However, it won't be long before these cutting-edge products are in homes across the country.
Flexible Furniture
Flexible furniture is by far one of the most unique and useful furniture concepts I've seen. The FlexibleLove is experimental furniture that was designed to be durable and made from low-cost, recycled materials. Although this pieces gets its name from flexible and loveseat, this piece can be extended to hold between 1- 19 people.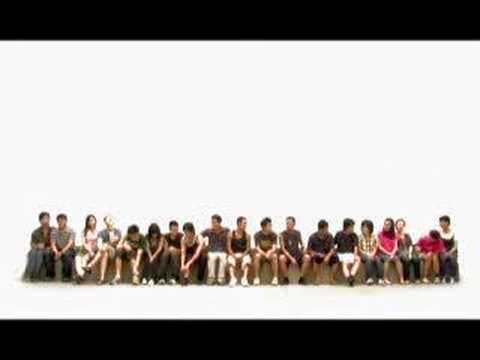 Expanding Furniture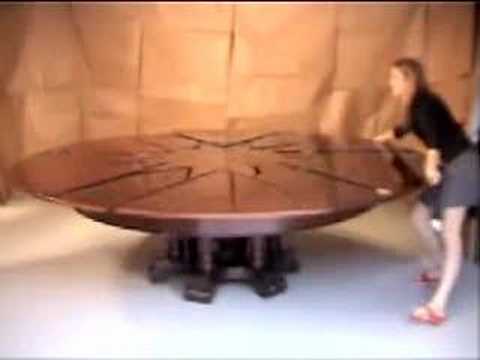 The Schwartz Table in the video above is part of a line by designers dbfletcher called Fletcher Capstan tables and it's a perfect example of taking an old concept and making it better. By simply turning the top, you can transform these small 4 person tables into one that can hold up to 12 people. These tables replace awkward inserts with one smooth, effortless motion.
Here's another take on a table that can be easily converted from a small table to a larger one.
Collapsible Furniture
Designer Nils-Frederking focused on space-saving furniture that could be collapsed when not in use, rather than expanded. His folding table and chair look pretty simple, but they quickly show their complexity when he folds and unfolds them. Granted, this isn't the first folding chair to hit the market, but it's one of the best looking.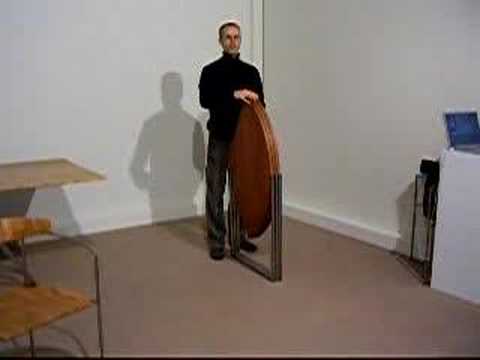 Moving Furniture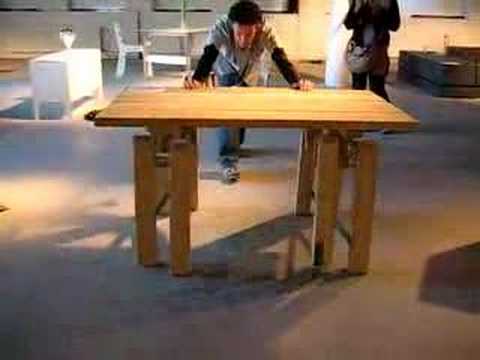 Even if you think its kind of creepy, you can't deny how incredibly cool and useful this table really is. Forget scratching the floors and straining your back when your table needs to move. Simply give it a push and the table literally walks itself across the floor. It was showcased at Dutch Design Week and I can't wait for this concept to be applied to every piece of furniture in the house.
Bonus
It's not technically considered a piece of furniture but I couldn't resist throwing in this flexible ceiling light.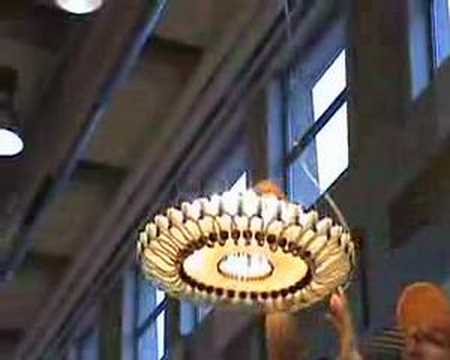 Unfortunately, I couldn't find any more information on it other than that it was showcased at the Dutch Design Week, but I hope this idea didn't go down the drain. Not only does it have a unique and even stylish look, but I just love the idea of being able to concentrate your lighting by collapsing and expanding it.
If you are looking for a fun piece of furniture to add to your living room, we have just the thing for you.
"Stop Playing With Yourself" is a combination puzzle and multi-purpose piece of furniture created by Australian designers Schamburg + Alvisse. It can be a sofa, chair, bed or just a star sculpture in your room. As a matter of fact, you may spend more time taking it apart and putting it back together than actually sitting or laying on it.
When decorating your home, there are tons of themes, concepts, colors and designs to choose from. Your home can be sleek and modern with stark colors and smooth shapes, have a cottage country feel with flowers, pastels and antique woods, or use bold colors and vintage pieces to create a retro retreat.
But if you'd rather look to the future instead of the past, and being simply 'current' isn't cutting-edge enough for you, opt for these futuristic furniture pieces that will make your home out-of-this-world.
The Abisko washbasin from Eumar is more than a bathroom sink. It is stunning cast mineral marble fashioned to replicate the fresh mountain springs and waterfalls from the Swedish national park, Abisko. The flowing design is meant to remind us that water is one of nature's precious resources and it is not in our best interest to let it pool in a big tub but to let it run free and to capture only what we need.
The Abisko washbasin dispenses with traditional drain pipes and other details. The fluid design incorporates very few components so that the water can spill freely down the length of the sink into the open grill to simulate the flow of water in nature.
Via: Trendir.com
Manufacturers have been developing combo appliances and all-in-one kitchen units for years now and many homeowners have been thankful for the dual or triple functions these space saving units can provide.
However, many of these units look cumbersome or awkward when actually placed in the kitchen. That was, until YesterTec developed the Armoire Kitchen.
This seven feet tall by six feet wide maple cabinet appears to be just a beautiful storage piece, but when the doors are folded back, it reveals an entire kitchen unit. Complete with stainless steel sink, microwave with hood, 2 burner cooktop, refrigerator/freezer combo, dishwasher, and of course countertop space and shelving for any pantry items, this unit is an incredibly efficient, self-contained kitchen.
The Armoire Kitchen is refreshingly simple and clean, and offers a wonderful way of saving space without compromising on features or functionality. The starting price for this cabinet is around $9,300.00, but considering how much each of these appliances would cost separately, it's a pretty good price. Plus, it's portable so if you need to move, you can take the Armoire Kitchen with you.
There are tons of great decorating tips for homeowners on how to express themselves through paint, wall treatments, flooring, and art. When a person owns a home, it is literally their canvas in which they can reveal their personality.
However, there are many of those who have their self-expression stifled by the fact they are renting an apartment. There are very few landlords willing to let their tenants paint the walls blood-orange red and a lot of the time, renters aren't even allowed to hang anything on the walls.
So for those who haven't entered the home-owning stage of their lives, there are ways to make your apartment feel like a home while still keeping your landlord happy.
If your landlord isn't willing to let you paint the walls, the next best thing are wall decals. They come in various styles and colors from sophisticated to silly and are a great way to spruce up those boring off-white walls. Since they peel off easily, with no damage left behind, you can add your own unique touch to your apartment that can be removed when you move out.
If you have some art or photos that you really want to show off, there are lots of products on the market that let you hang pictures on the wall without leaving any holes or marks behind. Just check out your local hardware store for some hanging solutions.
Since redoing your apartment floor is probably not a possibility and is an expensive way to decorate a space you're not going to live in forever, opt for a luxurious and vibrant rug to hide that ugly shag carpet.
If screwing in a curtain rod is out of the question, you can still add some privacy and color to your windows with temporary blinds, like RediShade. These shades are easy to install, require no drills or screws and can be customized to suit your needs. The best part is you can remove them when you move out and take them with you.
Finally, the absolute best way to add your own personal touch to your apartment is to accessorize, accessorize, accessorize! Use funky lamps, bold pillows and throws, lush greenery, and anything else you can find that expresses your tastes.
Even if your walls are bare and plain, you can create a look that's trendy and uniquely you by surrounding yourself with decorative accessories.
Concept appliances give us a peek into the future. They are often aesthetically pleasing and offer interesting and unique features; however, it is a rare concept appliance that makes it off of the drawing board and into the showroom. Unrealistic designs, high production costs and lack of consumer demand are often the reason for many ideas to be scrapped.
Yet, here are 14 interesting concept appliances that have made it to the model stage and look so good that we hope they go into development soon.
iBasket
The iBasket is a hamper/washer/dryer combo. The transparent iBasket stores your dirty clothes. Once filled, the automatic wash and dry cycle begins. After it has finished drying, the iBasket will send you an email or text message to let you know it's done.
Why do consumers need the iBasket?
The iBasket saves time and energy as you'll never have to transfer your clothes from the hamper to the washer to the dryer again. Plus, you won't have to worry about your lucky shirt being dirty when you need it for a special occasion.
Features:
Transparent body
Built-in air refresh system that removes the smell of dirty clothes
Wi-Fi enabled to help you monitor it from your PC or laptop
The one drawback to the iBasket is that it is very small. It has a capacity of approximately 3-5 kg which works out to be around 3 t-shirts and 2 trousers.
FlatShare
The FlatShare refrigerator is made up of a single base station and up to 4 stackable modules. Each module is a self-contained unit so no one will need to deal with other roommates' rotting leftovers and failed science projects. The modules are designed with a tall section for bottles, a spot for produce, and a small freezer for frozen items.
Why do consumers need the FlatShare?
Living with roommates can be fun and exciting until it comes time to clean the fridge. The FlatShare avoids potential conflicts by keeping each person's food and mess separate.
Features:
Customizable color skins
Bottle openers
White board
A handle on the side of the module for easy transport
Coox
Coox is a mobile cooking table that lets users cook and eat wherever they like. Not only does it cook the food, it can also be an extension of the dinner table or desk since the table legs are adjustable. The Coox uses induction technology so once you are done cooking, the surface cools immediately to prevent burns.
Why do consumers need the Coox?
Everyone is on the go these days, looking for new and improved ways to save time. The Coox is perfect for someone who works through lunch or eats at their desk while trying to finish up last minute projects. They can prepare themselves a hot snack or keep their tea warm without having to go to the kitchen.
Features:
Adjustable height
Induction technology
3-burner glass ceramic cooking surface
Cools down immediately after the cooking process has stopped
Warming area on one corner
Portable
Concept Appliance Parts Available
E-Bag
The E-Bag is a portable cooler bag that works by using human energy. The E-Bag's cooling system is powered by someone swinging it back and forth as they walk. So, the longer the walk, the cooler the E-Bag gets. The E-Bag's rotating handle charges the battery with the user's arm motion. The cooling system uses so-called Peltier technology, a kind of solid-state heat pump that transfers heat from one side of the device to the other.
Why do consumers need the E-Bag?
This bag is environmentally friendly as it uses no external energy source. It's perfect for picnics, walks in the park or an outing at the beach. And if you're tired, don't worry, kids have energy to burn. Let them carry it for awhile.
Features:
Capacity is approximately 3 liters
3 LED lights indicate beverage coldness
No batteries required
Pure Washer
Pure Washer is a rotating dual sink that acts as a sink and dishwasher. The two sinks are designed so that only one sink is exposed at a time. After the dishes have been put into it; the exposed sink rotates under the counter to expose another sink that is exactly the same as the first. Pure Washer washes the dishes under the counter with degassed water – no detergent required. There is also a cycle for washing fruits and vegetables.
Why do consumers need the Pure Washer?
Pure Washer is perfect for the single person who lives on their own. Freshly soiled dishes are easy to clean so each wash will only take a few minutes. Plus, it is a space saver since there is no need for a sink and dishwasher.
Features:
Dish cycle
Fruit and vegetable cycle
Reduces water consumption
Reduces energy used
No detergent required
Nevale Food Carrier
The Nevale Food Carrier is designed to keep hot foods hot and cold foods cold, all in the same container. It is built with 4 independent layers that have their own independent heating and cooling system. The digital display provides information on the conditions of each layer and can be programmed to reheat a certain layer at specific times.
Why do consumers need the Nevale?
Today's busy lifestyle makes it hard to eat healthy, home-cooked meals. The Nevale lets you carry a wholesome hot or cold lunch with you wherever you go. It can even be programmed to re-heat your main course for you while still keeping your dessert chilly.
Features:
Can hold up to 4 different types of hot and/or cold food
Programmable digital control screen
Each layer operates independently of the others
Uses a plug or rechargeable battery
Vacuum storage system keeps food safe from bacteria
Organic Cook
The Organic Cook is a compact, table-top appliance that can grill, boil or fry. It uses high-efficiency radiant energy that sends high frequency electromagnetic waves to cook while the vacuum system ensures that the food retains its flavor. This technology means that your food is ready in a fraction of the time required for traditional cooking.
Why do consumers need the Organic Cook?
The Organic Cook offers healthy oil-free frying, grilling and boiling, all in one portable appliance. The food is cooked in a fraction of the time and retains all of its natural flavors, plus it's easy to use.
Features:
Internal cooking pad offers flexible cooking options – grill, boil or fry
Infrared technology and vacuum cooking
Intuitive touch sensitive cooking selector
Prepares food in a fraction of the time
Portable
VESSTO

The VESSTO portable stove is an environmentally friendly appliance that uses an advanced version of the Stirling Engine to power itself. Once the small battery gets the VESSTO at a high enough temperature, the Stirling engine can run by itself by using heat from the stove to expand and contract small quantities of gas inside. The aluminum base plate protects any surface it is placed on and it is also a key component of the Stirling engine as it helps to disperse the heat and reuse it.
Why do consumers need the VESSTO?
The VESSTO stove is the perfect way to reduce energy consumption in your home. The simple control panel makes it easy to use and it even has a sleep function that automatically switches off the stove after a specific amount of time. It is compact and lightweight enough to take anywhere, including outdoors.
Features:
Renewable energy power source
Extremely quiet
Easy to read control panel can display recipes, notes or other downloadable cooking information
Sleep function
Ceramic coating for easy cleaning
Portable
Aluminum base plate
Offered in red, yellow, blue and black
Go Fresh Fridge
The Go Fresh Fridge is made up of a main frame that houses 12 removable, temperature-controlled compartments. The food is identified by scanning a picture of it and then the compartment automatically sets the optimal temperature for that type of food. Once the compartment reaches the correct temperature, the cold air inlet closes to save on energy consumption.
Why do consumers need the Go Fresh Fridge?
The Go Fresh Fridge saves energy and increases the lifespan of your food (which in turn should reduce food waste) and this is good for the environment. In addition, it is so cool looking that you will be the envy of all your friends (if not, then at least it is a great conversation piece).
Features:
Energy efficient
Removable, insulated compartments
Increases the lifespan of your food since it is stored at optimal temperatures
Food odors cannot seep into other compartments
Rockpool Waterless Dishwasher
The Rockpool Waterless Dishwasher uses no water or chemicals; instead it uses super critical carbon dioxide in a closed loop system. The carbon dioxide is pressurized into a liquid with excellent grease and oil fighting properties. The carbon dioxide then combines with a small amount of environmentally friendly detergent to get the dishes clean. Once the washing cycle is finished, the carbon dioxide and dirt are separated so that the carbon dioxide can be used again.
Why do consumers need the Rockpool Dishwasher?
The Rockpool dishwasher takes an existing technology and puts it to good use in one of the most used appliances in the home. The closed loop system means that the carbon dioxide gets used over and over again while the dishwasher never uses a drop of water.
Features:
Closed loop system means that the carbon dioxide gets used again and again
Very quiet
Simple user interface
NFridge
The NFridge has a modular design composed of small, stackable refrigeration cubes. Each piece is self-contained and works independently of the others. It uses magnetic refrigeration that produces a constant cold, faster than conventional refrigerators.
Why do consumers need the NFridge?
Not only does the NFridge use an earth-friendly cooling system, but the cold air is not released from the entire fridge when you remove an item. The modular design is perfect for people with large or small families. You can purchase the number of cubes you need and you don't need to cool any cubes you aren't using.
Features:
Space saving design
See-though modular compartments
Soft touch operating digital membrane
Magnetic refrigeration
Resistant to dust and water
Available in a variety of colors
Fog Shower
The Fog Shower is a showerhead that uses approximately 2 liters of water for a 5 minute shower. It does this by creating a fog or vapor flow of microscopic water droplets. The water is heated into water vapor which is then directed onto the person showering. An intelligent sensor sends the water in different directions based on the person's movements.
Why do consumers need the Fog Shower?
The Fog Shower is a simple and easy way to reduce your water consumption by 18 liters/day which adds up to over 6500 liters/year. And since there is less water to heat up, you will reduce your energy consumption too.
Features:
Reduces water usage
Reduces energy consumption
Intelligent sensor
Agbot
The Agbot is a solar-powered robot that can fertilize your lawn, plant seeds and guard your house at night. Its built-in GPS plots out the lay of the land in order to fulfill these tasks. In fact, its security system is so advanced that it will take a picture of an intruder and send it to you via email all before the intruder even knows he's been spotted.
Why do consumers need the Agbot?
The security system alone is a great reason to get an Agbot. Its motion detector, night-vision camera and alarm system will make any intruder think twice before breaking into your home. And if you require lawn maintenance, the Agbot can take care of that for you too.
Features:
Takes 40 seconds per planting
The fertilizer system is designed to avoid inconsistent dispersal that causes lawn burn
Solar powered
Speed as fast as 6 miles/hour
Night vision camera on a 360 degree swivel
High-frequency alarm system
Advanced motion detector
Artificial intelligence
Built-in GPS
Bluetooth
The Agbot still needs some improvements since its battery only lasts for 4 hours. However the programmers are continuing to make improvements and expect the Agbot to run longer in the near future. They also have plans to expand its functionality and make it customizable for the consumer's individual needs.
Bra Dryer
The Bra Dryer is a unique appliance that has the sole purpose of drying bras. Bras are made of wiring, fabric and padding that can be damaged using conventional dryers. The Bra Dryer's patent-pending design preserves the bras shape while using a gentle infrared heat source that evaporates moisture from the bra fabric while silent fans inside the appliance remove the moisture.
Why do consumers need the bra dryer?
Bras can be very expensive and need special care. Therefore they need a special dryer to keep them from getting damaged by conventional dryers. Air drying takes far too long and blow drying your bra is inconvenient, time consuming and never does a really great job.
Features:
Comes in a variety of cup and chest sizes to fit every woman's needs
Can be used with all types of bras
Available in black and white
Plans are in place to start producing the bra dryer in 2010. It will also be available in a modular variation, thus letting you dry multiple bras at the same time.
If you love ping pong and you love eating, then you'll adore this Ping-Pong Dining Table by Hunn Wai.

Hunn Wai has crafted a beautiful, official-sized game table using hi-tech marble-like Corian with gorgeous gold lacquer patterns. The long, rectangular vase filled with delicate flowers serves as both a floral arrangement and the game-net.
Hunn Wai's inspiration came from the origins of ping pong.
Ping pong started as a fun, after-dinner game for upper-class Victorians in the 1880s. It was a smaller, indoor version of tennis that used everyday objects as the equipment. The game would be played on the dining table with a row of books as the net, a champagne cork or knot of string as the ball, and a racket made from a cigar box lid.
The bold color and contemporary design of these innovative tubs from Regia make me wistful for a bright blue bathtub of my own. As a matter of fact, the dazzling colors and clean lines make me want to rip out my current bathroom and start from scratch.
The Jolie tub (shown here) is made from a polyester and acrylic blend. This blend is then loaded with glass pigments which produce an absolutely brilliant color. Then the tub is covered in fiberglass, cooled and smoothed to a crystalline finish. The tubs are so incredible that they become the focal point of the room and take your bathroom from boring to beautiful.
And if you love these tubs, you'll be thrilled to know that Regia is expanding their product line to include pieces for the kitchen and laundry room as well. I know that I'll be watching out for them.